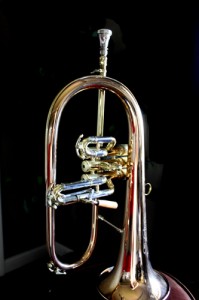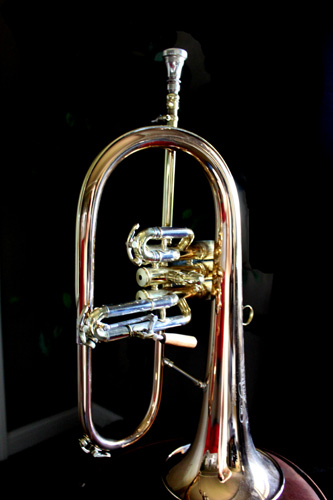 While trying to complete my coverage of the flugel horn, I decided to see what typical trumpet/flugel horn players say about the many instruments available on the market today. I have included only the material found on one site in a span of two weeks-
"The Yamaha Flugels are great all around flugels".
…"the Adams line. I truly believe they are making hands down the best flugelhorns and also the most diverse flugelhorns in the world".
"I play quite a bit of flugel and I sold my Couesnon when I got the V1 (Conn). I also played as many other flugels as I could when I made my choice, including the Kanstul copper bell and Chicago. The horn that came close to the V1 was a Callichio, but I chose the V1 and became an endorsing artist for Conn- Selmer".
"The Conn V1 is a great horn. Most cats that have them agree, but there is occasionally a used one that pops up".
"I am still happy with my Kanstul 1525, but the Adams is really good as well".
"While I didn't play every flugelhorn at the convention, I did play a lot and found the Adams flugelhorns in my opinion to be the best".
"I can concur about the Getzen. I've been playing one of these, and while the sound can be impressive (i've gotten a lot of compliments)… the intonation takes a lot of work".
"The Bach sounded great, decent facility, but the pitch was way spread out, low register flat and upper register sharp. The Schilke is good at all three, sound, pitch and facility".
"I tried a Schilke Flugelhorn at Dillon's recently. Great manufacture, okay sound, good intonation. Guess I am keeping my Yamaha".
"I have a Yamaha with excellent intonation, but I notice intonation issues mentioned quite a bit with flugels. I know that Schilke trumpets have great intonation".
"This horn is THE TRIUMPHONIC Class A # 29069 made by Salvationist Publishing & Supplies Ltd.Judd St. London*L*P* It blows how I'd like a flugel to blow. not too muddy. the notes above G on top the staff are there and not flat or dull or nonexistent. My friend described it as a LEAD FLUGEL!!! ROFL!!! i think that is how it plays too".
"I shouldn't be looking for a horn right now, but does anyone know anyone who might have a Callet Jazz flugelhorn for sale? NOT the Callet New York flugel. The Callet JAZZ flugel".
"I have a Yamaha with excellent intonation, but I notice intonation issues mentioned quite a bit with flugels. I know that Schilke trumpets have great intonation".
"I have a Monique brand flugel on sale now on TPIN. It refers to France as it's point of origin but I'll bet is was made somewhere else".
"It plays very well and is very well built too! A fine horn for the $250.00 I'm asking and a good bargain for a doubler or a student. Probably "all" Chinese or India horns are not as good, but this one fits the bill in every regard"!
"I bought a cheap flugel – Jupiter copy of the Yamaha 731. I didn't buy it on Ebay, but it is just fine for my needs. It cost me $500 and plays every bit as well as the Yamaha".
"Anyone have any actual experience with these budget-priced flugels found on ebay"?
And if that has not totally confused you about which flugel horn is the best, this should-
"The discussion about flugels reminded me to share this experience. A few years ago I replaced my Yamaha 231 flugel with a pristine condition Courtois built in the 1970's that I found on eBay. It came with a French taper leadpipe and a LeBlanc mouthpiece (I don't remember the # right now). Like we all tend to do, I started dinking with it and trying to find a mouthpieceI liked better. The French taper severely limits the mouthpiece choices, so I had a custom leadpipe made by Melk Brass in WI that was dimensionally the same as the original, but with a standard taper. I tried many fine mouthpieces, and I found that I could tune it to a Bb concert pitch, or any other pitch, and then the other notes in the scale were all over the place as far as intonation. Also, the notes above G above the staff were kind of dead. I put the original leadpipe and that LeBlanc mpc back in and everything popped–pretty good intonation throughout the scale plus more lively sound in the right kind of way for a flugel. I've never played any other horn–trumpet or flugel–that was so touchy. As long as I use it this way it's just great. Anybody else had similar experiences with these French flugels"?
Voicing ones opinion on the best flugel is like trying to discuss politics or religion. Some things are best left to the individual. But if you would like to know my opinion on the issue, here it is-
Currently I am playing a Conn Vintage 1 and have played most of the horns commented on in the above material. Recently one of my good friends let me play on his new Kanstul flugel and if I had the money, that would be my next flugel. I found it to be the sweetest sounding, easy blowing and average in the intonation department.
If you are contemplating the purchase of a new flugel horn, you will have to do the shopping and playing on your own for just like the fact I like Toyota cars, you might be driving a Buick.