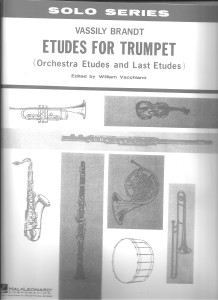 While rummaging through my files today, I discovered a long lost friend from my past…
The name of my old friend was Vassily Brandt "Etudes for Trumpet (Orchestra Etudes and Last Etudes), Edited by William Vacchiano.
Not only are these excellent exercises to learn some of the most recognized orchestral excerpts, but when you get back to the "Last Etudes" section, hold on to your eyeballs for this had to be written by the most vicious practitioner of the instrument. Just when you get used to a pattern, he changes directions and you fingers feel as if they were bent backwards.
"I love this book"!
If you are an accomplished player and do not own this old masterpiece, get it this week.
After struggling through a few of these satanic etudes, you may want to send me a life threatening response but do note that collections such as this one do not come around that often.
Get the book, learn the etudes and be a better player for it.