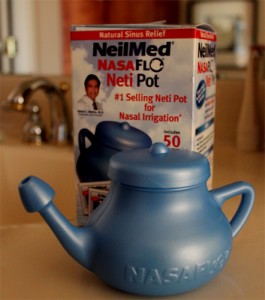 Neti Pot is its name and NASTY POT is what I call it. The agony and humiliation I go through while using this instrument of torture cannot be overstated. Now that we have addressed all the positives connected with this helpful little item, I will share with you its benefits and the history as to how and why I am currently putting myself through this agony twice a day.
It all started when I moved to the Branson, Missouri area. If you are not aware, Branson is located in the Ozark Mountains and surrounded by a National forest. Trees have pollen and people suffer from the combination of allergies, people like me. This summer has been particularly troublesome for those of us with allergies.
While visiting with my chiropractor last week concerning my allergy situation, he suggested that I use a Neti Pot. Being new to the Neti Pot world, I asked how does it work? …… If someone tells you that you are to pour warm liquids into your right nostril, and then let it fill up the inside of your nose and eventually let it run out your left nostril, what would be your reaction? That was mine also.
After visiting the local pharmacy and purchasing my very own Neti Pot, I hurried home with great anticipation for what was to come. In theory, the application of liquids through one hole in your face and the subsequent drainage of the same liquid out another hole in your face are very popular with many people. My question would be what kind of person would find this enjoyable?
Now visualize the scene at my home. My wife is reading the instructions while I'm questioning why she has a slight smile on her face. The instructions are simple and straight forward; 1. Rinse the Neti Pot, fill pot with clean water. 2. Pour contents of included powder into pot and mix. 3. Stand in front of a sink and tilt your head to one side. 4. Pour the contents into one nostril and with your mouth open, without holding your breath, place the tip of the pot in one nostril, and "allow the solution to gently flow until the solution starts draining from the opposite nasal passage"……… Think about that for a minute.
The scene in our laundry room would be difficult to justly describe. There I was, head in sink coughing, spitting, gagging while all the time my wife was doubled over laughing her head off. Fortunately we have a strong marriage and once our dog was finally extracted from her hiding place under the bed, we all decided to re-read the instructions.
We had correctly implemented this device and after a few days of practice, I got on to the process. My allergy problem improved and as a side effect, I was able for the first time breath unrestricted through my nose. For a wind player, this is a big improvement. By the second day, I noticed a slight difference also in the tone quality of my trumpet. Just as deep breaths will affect your tone, an open nasal cavity will also change your instrument timbre.
After a week of rinsing my nasal cavity twice a day, I am convinced the Neti Pot has helped me. Do I enjoy the application? No. Would I recommend it to other trumpet players? It would depend on how close a friend they were. Am I suggesting my readers go through the torture? ……….
Instructions on the use of a Neti Pot.
View an example of a person's first experience with a Neti Pot. WARNING! I WOULD NOT SUGGEST THAT YOU VIEW THIS IF YOU HAVE A WEAK STOMACH OR ANTICIPATING THE PURCHASE OF THIS DEVICE.