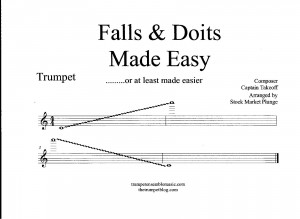 Recently, we have been seeing more and more questions about falls and doits. More specifically, how are they played?
Playing doits (ascending effect) and falls (descending effect) are very easy and I will demonstrate an easy way to get the most out of your fall and doit.
The secret to an effective fall or doit is in the correct position of your valve and here is an easy way to find that position.
1. Establish the starting pitch and the final pitch for your fall or doit.
2. Place the first finger of your left hand directly in the path of your descending third valve so that when the valve is depressed, the finger will stop it decent.
3. Perform a slur from your top note to the bottom note. If you have gaps in your slur, change the amount of space from an open valve to a depressed valve position.
4. The slightest change in the elevation of your third valve will drastically change the tone and smoothness as you descend.
5. Once you have found the correct elevation of your third valve which gets the most gnarly, edgy, completely smooth slur, make a mental note of that distance for this is where you will need to go to get the effect you are after.
6. During your fall and doit, you will need to add more air to your notes in order to compensate for the half valve effect.
How to make the most out of your fall and doit-
When performing a fall, think of staying on the top of the fall there by increasing the length of the fall.
When performing a doit, think of playing on the bottom of the fall in order to give your doit more length.