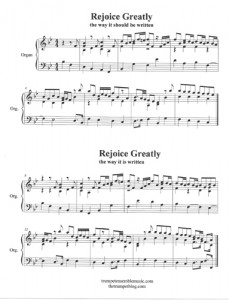 How many times have we all enjoyed George Frideric Handel's Oratory, The Messiah and wondered if he had written it incorrectly? I would venture a guess that I may be the only one on the planet. The reason I have even pondered this possibility stems from my preparation for a solo this week at a church. Sunday is Easter Sunday and I decided to perform the aria "Rejoice Greatly, O Daughter of Zion". After searching the internet for a suitable copy, I finally found what I was after and began practicing my part. After three attempts to get the feel of the number, I realized that it was written incorrectly. Each time I played through the solo, I came to the same conclusion- the music is written incorrectly!
As you can see from my printed page, my edited version fits more comfortably with the text than the original. How could this have happened and why hasn't anyone realized it before now? My first thought was that I had downloaded music which contained the error but after subsequent searches, I found that each copy was the same. In my corrected version, the emphasis on the melody falls at the natural spots and in the original they are off by two beats. After finding this to be true in all of my copies, I decided to ask several of my friends who were more knowledgeable on the subject than I. After contacting these people I found that many did not share my concern and only one was able to give me the answer I was after. No one had a problem with this discrepancy but me.
Because of my determination to perform my solo as easily as I could, I set down at my computer to rewrite my solo part. After the better part of an hour, I finally had what I needed, my corrected version of the aria. Whether you agree with my conclusion as to the correct or incorrect version of this piece is not important. More important would be which version is easier to perform and for that reason I have included my "improved version" for your use. With the changes I have made, you should find it much easier to perform.
If you have strong views on this subject, please write me for it would be very strange that I would be the only person uncomfortable with an important section of the Messiah after all these years.
Download revised solo- Rejoice Solo -revised