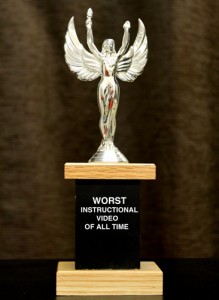 Continuing in my limited series of disturbing videos I have selected this gem. YouTube has an ever increasing library of self help videos which strive to inform our world on various subjects. Many of these are very helpful and in some cases, they can be very destructive as in the case of this video-
Please read this post completely before trying the above instructions.
This could possible be the worst instructional video on the internet! If these instructions are followed as described in the video, I can guarantee that you will have ruined your instrument and for that reason, I will list the many destructive elements described in the video.
Bad advice #1
Never place your instrument in an unprotected position as shown in this video. Notice the clanking sound as the instructor places the instrument back in the sink. Unless you enjoy counting dents in your horn, it is far better to place the instrument flat at the bottom of the sink.
Bad advice #2
Never apply MAGIC VALVE TRUMPET CLEANER to anything! As you can hear in the video, as the person rotates the valve in its casing, you can actually hear the grinding sound as it is rotated. MAGIC VALVE TRUMPET CLEANER is no more than a lapping compound which is used to wear down metal parts.
Bad advice #3
Never rotate the valve in its casing. As valves are used, they eventually will seat within its own casing which means that the position and direction of your finger as it pushes the valve down, will eventually force the valve to its own position within its casing. This is similar to the pistons in a car engine. Eventually each piston and set of piston rings will find a natural path as it moves  up and down in the cylinder.
Bad advice #4
Forcing a valve up and down 50 to 60 times while coated with an abrasive as this has shown has permanently damaged the instrument. Notice that your instructor even describes his action as lapping. When metal is lapped, metal is removed. As metal is removed, the piston becomes thinner and the valve casing becomes larger. As the tolerance is increased between the two, compression is lost. As compression is lost, the playing characteristic of the instrument worsens. The valves will seem to go up and down easier at first but after additional playing the loosening of the tolerance will generate problems much worse than the original problem.
Bad advice #5
Unless the instructor has been setting fires in his horn (at this point, I'm not really sure what this person is capable of doing) there should be no possibility of soot collecting in a trumpet.
Bad advice #6
This should warrant jail time for our instructor. I am certain that every real trumpet player viewing this video instantly became ill and suffered from an acute desire to place their hands around the instructors neck. I have never seen anything as destructive, senseless and down right stupid in my whole life. The gifted trumpet designer and acoustician Renold Schilke once told me to never rotate a valve in its casing and here this moron is inserting the valve in from the bottom. Never, under any circumstance should a valve be inserted from the bottom.
Bad advice #7
The conclusion of this video encourages you to view a following video on cleaning the valves. I urge you never view any video produced by this person, even if your life depends on it.
Did I make myself perfectly clear?