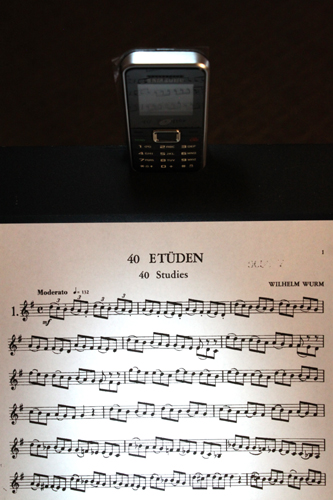 Who said the old can't learn from the young? I am living proof that the youth of today are far more resourceful than we give them credit.
If you have ever been performing with an ensemble when someone trips over the extension chord and all of the bands lights go out, you have experienced the helplessness we have all experienced. There is nothing you can do to get back into the action and the show stops. It has happened to me on more than one occasion and little can be done to resolve the problem. You can have the most expensive stand light available to man but without power, you might as well have a C clamp attached to your stand for your light will not work without electricity.
So…. what can be done to get the show back on the road?
Just reach down and turn on the light on your cell phone! Aren't you glad you live in the 21st century?
I learned this trick from a young man performing in a workshop I was leading this past month and thought him to be one of the quickest thinking young person I had met in a long time. When I noticed that his stand was the only stand with a light shining in the darkness, I approached him to find out how he was able to see while all others were without lights. When I asked him where the light was coming from he looked at me as though I had just left my cave and stated, "I just turned on my Cell phone light".
Thank you youth for showing your ability to help us , the less fortunate, to get along under adverse playing conditions and move from the darkness into the light.