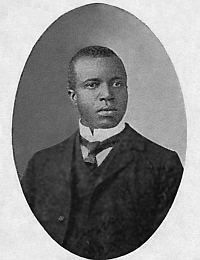 To most people, the question of how one should play the rhythms in Ragtime music seldom comes to mind. In my case, I know how it should be played but have doubts that it truly needs to be played correctly. To address this dilemma, I will explain the differences and why I choose to perform Ragtime music incorrectly.
A brief history of Ragtime music 00:101
Ben Harney first introduced his style of broken rhythms from Africa to the public in his compositions which he called ragtime songs. These songs were more casual than the European music enjoyed at that time and contained the distinctive American slang and the African- American derived melodies and rhythms.
After Irving Berlin' success with "Alexander's Ragtime Band", the whole nation's musical tastes shifted away from the sentimental waltz songs and operettas of that time to the new music- Ragtime.
Important point to remember-
Ragtime in its beginning, SWUNG. This was represented as a series of long followed by short note valves.
In order to make available the newest popular songs to the public, the player piano was invented. Many homes were furnished with these musical wonders and the latest piano roll was heard throughout the land. Unfortunately the technology used to punch the holes in these piano rolls was note accurate enough to accurately represent the long, short notes performed by the Ragtime piano players and their owners learned incorrectly to play rags with even note values.
Important point to remember-
Because of the limitations in the manufacturing of piano rolls, the correct swing rhythm of piano rags was replaced by even note values or straight rhythm.
The Entertainer
Maple Leaf Rag
So now you understand our dilemma. Do we play Rags with a swing feel or with even eighth notes?
On our next concert we are performing an arrangement of "And All That Jazz" and I have asked my players to play the eighth notes even or straight, not with a swing feel (which is historically more accurate). I would like my audience to recognize the music as they are used to hearing it, even though it is incorrect. I will introduce the number with a shortened version of this post in order to enlighten them to the background and misuse of the original style.
I searched the net to offer something which I think is closer to the original feel of Ragtime music and found this gem recorded by Ragtime Pianist Bob Milne. Notice that the notes are not even and at the same time they are not what we consider swing either. His performance seems to be in between the two which I believe is more accurate of a traditional performance.
Ragtime Pianist Bob Milne
Now that you understand the history of the swing, no swing discussion related to Ragtime music, you can decide for yourself to which side of the isle you would like to walk on.