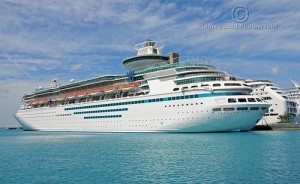 I have been asked to share some information on playing on a cruise ship. I have not played on one myself but most of my friends in Branson do it regularly so from what they have told me, I will try to share this information with you.
The good side of cruise ship playing.
1. For a single person, it is a lot of fun.
2. The pay isn't bad and the scenery is fantastic.
3. Living conditions on the boat are cramped.
4. The food is wonderful.
5. The shows are OK and lean towards the commercial side of playing.
6. Your opener and maybe one band feature is all the real jazz you will be playing.
7. Most bands use rhythm section and add horns in this order, sax, trumpet and finally trombone.
8. On the really big ships you may have a big band.
Now for the down side of cruise ship playing.
1. You will be in competition with very good and seasoned musicians.
2. When musicians loose their jobs around the country, they try to fill in with a cruise until another job on land opens.
3. Many times musicians are hired by word of mouth so if you are not a monster player or know someone, you will have a difficult time getting a gig.
Some suggestions that might help.
1. Get to know someone in the business who knows someone in the cruise field.
2. Take lessons from a trumpet player in your area that has contacts.
3. Work on the following areas in your playing-
• Sight reading
• Sight reading
• Sight reading
• Be able to play to an F above C at any time, fresh or tired.
• Have a great smile (I'm not kidding on this one)
• Learn a few standards you can jam to (in any key)
My last bit of advice.
I live in and play in the shows in Branson and when I came here 16 years ago, there were 15 trumpet players working full time. Now there are three of us. There were five but the trumpet players on the Branson Belle, our excursion boat on Table Rock Lake just fired them. The show "All Hands On Deck" (were I play) and the Show "Prince Ivan" are all that are left for trumpet players in town. Jobs are scarce and everyone who has had a job is now looking for a gig and most are pulling in favors for work on the ships. I don't mean to discourage you on your interest in playing on a cruise ship, but you will be in competition with many seasoned players. Keep playing and at this time in the music business, college teaching still looks good even with the cut backs in education./ I taught 30 years at a leading university and played all the time. My retirement was outstanding and during these tough times for playing musicians, a DMA would be my suggestion for the future.