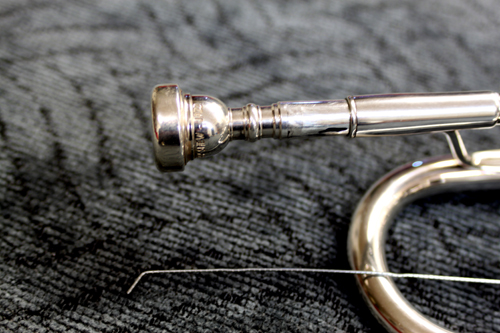 In our never ending quest for truths and the American dream, I came across this assertion which sounded very plausible, yet questionable.
On one of the more popular trumpet bulletin boards I found a reference to a trick which apparently Mr. Armando Ghitalla was given credit. The writer mentioned in passing that "Ghitalla did a lot of experimenting with paper clips, and various hand fashioned doodads, placing them in the backbore of the mouthpiece and other places".
Now I am not a strong fan of placing paper clips in my instrument but the name Ghitalla raised my interest. If this great champion of the cause thought to try it, why not yours truly?
Crank up the old equipment and let's have a go at it.
Question #1
How would he have attached the clip to the backbore?
As you can see from the photo, I decided to use a large paper clip, straighten it and place a small bend at one end to keep it in place in the mouthpiece cup.
Question #2
What will it sound like?
To my amazement, the tone was more compact and the clip seemed to add resistance to the air stream.
Question #3
What other changes will the clip have on the playing?
I set out to check range, intonation, flexibility, dynamics and overall playing response.
Range– It went up (at least a third)
Intonation– Very little change
Flexibility– The clip made the tone more centered with a little less flexibility
Dynamics– Slightly softer with clip in
Playing response– The clip tended to make each note a little less spread or tighter in sound.
Tone quality– Felt more compact a sound
In summery-
As you can see from the second photo, the recorded examples prove what I had felt. The tone without the clip had more resonance (sharp peaks and more drastic peaks and valleys) and edge than with the clip. The clip made the tone more compact than without the clip (less change and more flat in nature).

I had no idea as to what to expect but was pleasantly surprised to find that with the simple placement of a paper clip in the mouthpiece, I was able to change the sound from a well-rounded, fat sound to a more compact and penetrating sound with an increase in my range and no large changes in intonation and flexibility. I did notice a decrease in dynamic levels. The biggest problem is getting used to the feel of having a paper clip in your mouthpiece.
I would suggest that you do the same experiment to see if you come to the same conclusion as I and let me know what you decide.