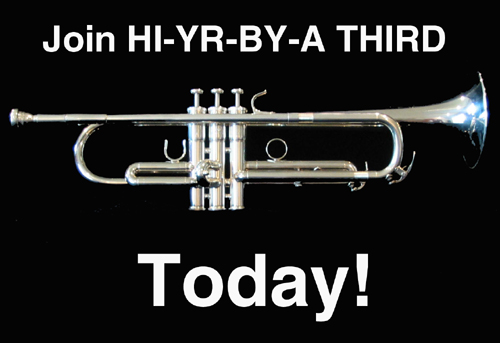 What is HI-R-BY-A-THIRD?
HI-R-BY-A-THIRD stands for How to Increase Your Range By A Third
This is a new support group just for high note wimps like me and it begins Today!
• If you are tired of having other trumpet players laugh at you when you miss the high note at the end of your solo, join our group.
• If you have lost jobs because of your limited range and want to play in a higher chair in your section, join our club.
• If you are envious of the other players who are able to perform a full octave above you with less effort, join our club.
• If you….oh well, you get my point.
HI-YR-BY-A-THIRD was formed today for the ultimate challenge of getting our range up a third in a reasonable amount of time.
Each person is different and their eventual improvement will vary. Some will be able to advance in a short amount of time while others will have to continue working longer. There is no way to forecast how long this will take, hence "a reasonable amount of time".
I practice regularly to keep in shape for calls and have leveled off on my high range at F# above high C. For most situations this is adequate, but after knocking on the door to "G" for a while, I decided I needed to do something to get the G started. And that was when I remembered the Claude Gordon book Systematic Approach to Daily Practice. While at North Texas State, (University of North Texas) I worked on this book and eventually was able to play a very thin "Eb" above double C. I remember that day for I wrote the date down on the page I was playing.
The required text for this course will be Claude Gordon's Systematic Approach to Daily Practice and all students in this class must have this method in order to be part of the project. If you can borrow one, that's even better.
Class begins today and will run as long as there is interest and "class participation". In order for our class to begin today, I have included your first assignment which can be downloaded below. Also included below is your practice sheet for documenting your progress.
IT IS IMPARITIVE THAT YOU HAVE A COPY OF THE TEXT, FILL OUT YOUR PRACTICE SHEET AND CONTACT ME THROUGH THE COMMENT BOX BELOW THIS POST SO THAT I CAN KEEP EVERYONE INFORMED AS TO THE PROGRESS OF THE CLASS.
I AM COUNTING ON YOU TO JOIN OUR PROJECT AND ALL YOU NEED TO DO TO IMPROVE YOUR RANGE IS A LITTLE TIME, REGULAR PRACTICE AND SEND IN YOUR WEEKLY REPORTS TO YOUR TEACHER. ALL LEVELS OF PLAYERS ARE WELCOME.
I would like to make a challenge to all my trumpet playing readers.
If you would like to join me in increasing our range by a third (or more), follow the instructions listed below and we will see how far we can increase our ranges together.
Here is how you can be part of this inspired and group motivated army of high range wimps, like me……
How to Increase Your Range by a Third project (HI-YR-BY-A-THIRD)
• Purchase (or borrow) the book- Systematic Approach to Daily Practice for Trumpet
• Leave a comment on this post indicating that you would like to join in with others on this project (names will be kept confidential)
• Check in once a week and give us your progress
• Submit any questions or comments on this venture
Our next few posts will give you some advice on why Systematic Approach to Daily Practice works, how it should be used, what to expect and what to be aware of as you increase your range.
As long as we have class participation and questions from the class, this should be fun and productive for all of us.
Question from the back row:
"Professor, will you be letting the class know how you are progressing"?
Response; "I think that is only fair……….
Download Practice Sheet here- Practice Sheet
Download First Assignment here- CG #1 P1 (1)