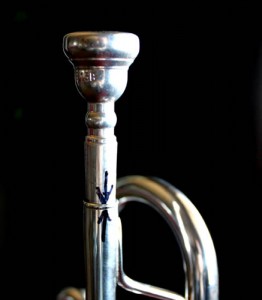 Have you ever heard or read something that does not make any sense to you at all and then you set out to prove it wrong only to find that it is actually true? This happened to me this past week and even though it is an embarrassment, I will swallow my pride for the betterment of the brass world.
This past week I read a post on one of the brass bulletin boards which stated that this person claimed that the rotation of the mouthpiece could actually change how the instrument responded when played. Just the thought of someone claiming this conclusion made me want to grab them by the neck and shout, ARE YOU SERIOUS? What a stupid assumption, and to make my point, I proceeded to try to prove this person wrong, only to find that I was wrong and they were correct.
The assumption- "By rotating the position of the mouthpiece in the mouthpiece receiver, you will affect the response of the instrument".
The author of this information (unfortunately I have not been able to find this post in order to give due credit to it's original author) stated that some days when we play our brass instrument, it is our friend and other days, even though we feel the same and have been practicing the same material, we can not get the instrument to be consistent in its performance. I have experienced this many times and have not been able to explain why this happens. The assumption made by this person sounded interesting even though I had a strong predigested opinion even before trying to prove the assumption false.
My test to prove it wrong
We all assume that the mouthpiece is consistent in all respects- summitry, dimensions, tapers, material, mass, weight and because of these assumptions, we would seriously doubt that the amount of rotation, no matter how little or how much, could affect the response of the instrument when played. My friends, after completing my tests, I was amazed and I was forced to eat my doubting words.
I marked my mouthpiece on the shank and the mouthpiece receiver with lines indicating the original position. Around the entire mouthpiece receiver I added lines every 1/8 of an inch and began to play a series of exercises and consciously evaluated the sound, ease of response and feel of the instrument. As I continued to play and rotate my mouthpiece, I first noticed that there was indeed a difference in some of the positions of the mouthpiece. My first thought was that I may be inserting the mouthpiece with different tension in the mouthpiece receiver. I inserted the mouthpiece with the same force each time and still I felt and heard a different response at some positions. After completing the 360 degree rotation, I redid the exercise and this time I indicated where the best sound and response was located on my horn. After this test I concluded that at every eighth of a turn, I was pleased with the feel and sound and at the other positions, the horn felt stuffy and unresponsive. It was at this point that I began to mentally apologize to my original poster of the article.
Conclusion-
From my exercises, I found that the position of each mouthpiece did in fact have a noticeable affect of the sound and response of all of my horns.
I had been proven wrong and if you ask my wife she would not have been surprised, for she experiences that situation on a daily basis. This finding is very important and again I would like to thank the original author. We have all found during our daily practice that some days it works, and other days it doesn't. There is only one way for you to decide whether your mouthpiece rotation makes a difference and that is to do the experiment yourself. It only takes about thirty minutes but the possible outcome may change the way you approach your instrument each day. For me, I have marked my horn and mouthpiece so that they will line up the same way every day. After a week of doing this routine, I have not had one of those, "it doesn't feel right days". That's enough proof for a skeptic like me.