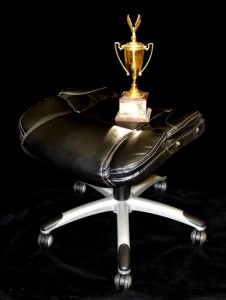 We all have suffered long enough when faced with the problem of a comfortable chair or stool when performing on stage or practicing.
After spending "almost an entire lifetime" searching for the "PERFECT" solution to this dilemma, I felt compelled to single handedly add comfort and confidence to the world of seated performers.
I spend at least eight to ten hours a day (every day) at my computer and when I finally broke down and purchase a new desk chair, I wanted the best I could afford. As it turned out, the purchase price was not at all what I expected. The chair listed for $250 and was (noticed the operative word "was") on sale for $97 dollars. I checked today to make sure I listed the correct chair for my readers and found that this particular chair is no longer in stock. But, as you will see, there are several still available with the same features at very reasonable prices.
When stating that this is the best chair/stool, I took into consideration many factors and I have listed a few below.
What makes for the perfect performance chair/stool?
• The seat area must be comfortable.
In addition to comfort, a performance chair/stool should be most comfortable on the front edge where for good posture; a musician will be spending most of his/her time.
• The seating area should be extra wide for those with larger than normal buttocks.
Even though my posterior is about average, I am always looking out for my above average readers.
• The upholstering must be serviceable and of good quality.
When you consider the hundreds of hours we spend in performances and rehearsals, this feature is very important.
• The size and transportability of the seat must be considered.
No matter how serviceable and comfortable the chair is, you should be able to get it to the concert with little effort.
• The position of the legs must be taken into consideration.
As you lean forward to perform, the position of the legs should not interfere with the comfortable position of your feet.
• The cost of the chair/stool should be worth the advantages over traditional solutions.
When you experience the many advantages of this chair/stool, I think you will say it was well worth the expense.
Know, as I said earlier, this same chair is no longer in stock but with careful investigation you should easily find a similar chair in the huge offerings at Staples office supply. I also saw a very similar chair at Walmart last week. Just remember that in order to complete this project, you need to leave the back and arm rests off the seat. The reasoning behind this move is that the complete chair is the most comfortable office chair I have ever sat in and because of that fact; I tended to practice with my back against the chair and eventually began to rest my arms on the arm rests as I played. If you think this is the way to practice, think again young Jedi.
Know, what do I do with this beautiful back rest?