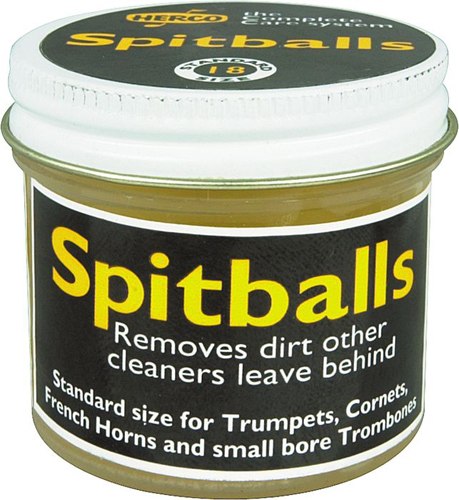 This product has been around for decades and unfortunately, most players do not know much about them.
Spitballs are cheap, easy to use and effective in cleaning brass instruments.
When these little projectiles first hit the store shelves, the members of our brass quintet (the University of Northern Iowa Faculty Brass Quintet) thought they were a gimmick until we tried them.
Our horn teacher at that time decided to inform a group of middle school students to the value of Spitballs and pushed them heavily in a master class one day. The following week we received a letter from the same student's band director chastising us for even mentioning the name Spitballs. According to the director, several days after our quintet left his school he was pelted on the downbeat of the first number in band with dozens of Spitballs coming at him from every section. According to him, "Little was accomplished for the remainder of the rehearsal".
According to their advertisement, "Herco Trumpet Spitballs are great for cleaning trumpets, cornets, French horns, and small bore trombones. 18 specially treated foam spitballs per jar clean where other products can't reach".
I am biased in favor of these convenient pellets for it is much easier to clean your instrument regularly with these foam products than getting out all the snakes and brushes that go along with cleaning a brass instrument.
To be fair to my readers I have included several comments about their effectiveness to back up my view of Spitballs as well as one response which did not reflect the thoughts of the majority of its purchases.
"THESE SPIT BALLS ARE EASY TO USE AND KEEP THE INSIDE OF ALL MY HORNS CLEAN. THEY ALSO ARE GREAT FOR PREVENTING RED ROT. HIGHLY RECOMMENDED."
"I have all the usual cleaning tools for my King Silver Flair trumpet, but these Spitballs are a terrific convenience for maintaining my horn clean with far less frequent need to get the gummy, gooey buildup out. They're super easy to use and go right through. I use one with the valves open and one with all three down. This works really well. I never thought I would be so fond of spitballs…LOL! Now I just clean with the other tools every once in a long while, mostly as a matter of principle. It's hardly necessary anymore."
"Spitballs are the worst! They do not clean your horn one single bit! This is pure rubbish. I boughtg these things and it didn't work! Don't waste your money"!
"Spit balls work great, even after a home cleaning with a snake, after the spit balls are ran through you can still see the grime come out. Thanks Again".
"These little yellow foam plugs are fantastic. I bought a bottle of them back in high school, 1968. They are still in my case and are used often. Just wash them out about once every five years or so and use them over and over. Just a couple drops of your favorite valve oil on them is all it takes. Students love them! The first time you blow one through a student's horn it will come out slimy green and probably stick to the wall. They learn real fast that a trumpet needs to be cleaned often. Great to see that these Spitballs are still on the market. Try them, they are fantastic"!
I would recommend that you clean your instrument at least once a month with your conventional cleaning equipment for it is best to keep your entire instrument free of debris and foreign material.
The use of Spitballs in trombones is even more important than trumpet for the simple reason that the trombone, when returning to a higher slide position will blow the air within the trombone slide back at the player which has been the cause of infections in its players.