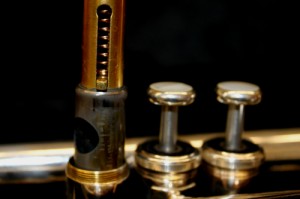 Many times trumpet players will discuss a topic which can be confusing to a beginning student, i.e. valve compression. The term valve compression is usually misused for there is very little compression in any section of a trumpet. Air is free to move through the instrument for there are obviously two openings, one at the mouthpiece and the other at the bell end. What most discussions are centered on are the tolerances or space between parts through the instrument. These areas usual are the gap between the valves and their corresponding valve casings, the first, second and third valve slides and in rare cases the tuning slide area.
The most important area to a trumpet player would be in the valve area for if the valves are too loose in their valve casings, air might be allowed to pass between the valve and its casing. This loss of air, though very slight can affect the response of the instrument. In addition to possible air loss, a valve with an extreme amount of clearance will generally become a problem as it eventually will bind within the casing. An ideal situation would be a valve which has a seal through the use of a small amount of valve oil and its surroundings. New instruments are usually not a problem but instruments which have had extensive use will many times have too much play and will eventually need expert attention.
Younger students many times ask if their valves are tight enough and I tell them that there is a very easy way to test their instrument for excessive leakage.
How to test your valves for excessive leakage-
1. Depress your third valve, and extend your third valve slide to its full length.
2. Release your third valve and slide your third slide back in while you count slowly.
3. Place the bell opening next to your ear as you continue to count off seconds.
4. When you reach 30 seconds, depress your third valve and if you hear a pop, your instrument is tight enough for all your needs.
5. Continue this test on your first valve and first valve slide in the same manner.
6. If you are able to hear a pop after 10 to 15 seconds, your first valve is also adequate.
7. Due to the very short distance you are able to move your second slide; it is not a practical test for that valve.
If after taking this test, you find that your best times are in the 5 second area, it indicates that there is indeed air escaping either around your valves or through your valve slide. If you think it might be escaping from your slides, you may hear some bubbling sounds or see actual bubbles escaping around the valve slide as you compress the air. If there is air leakage from your valve slides, an easy solution would be to use thicker valve side grease on your slides.
If you have identified the air leaks as coming from your valves, I would suggest that you contact a professional repairman to examine your instrument. A professional repair shop will be able to help you for there is nothing an inexperienced person can do at this point. These problems are most often found on the really old instruments and if you have taken care of your instrument, you will probably be trading instruments before you wear the valves out.
I have included some numbers from testing a few of my horns to give you an idea as to how much air can be trapped in an instrument which is used daily.
Instrument (Age-Valve 1-Valve 3)
Yamaha Custom Z (5-6 years old-1:30-Over 2:00)
Yamaha Bb (15-20 years old-0:15-0:30)
Bach Cornet (35-40 years old-0:00-0:00)
Conn Vintage 1 Flugel (6 years old-0:45-1:30)
Getzen D/Eb (30 years old-0:15-0:25)