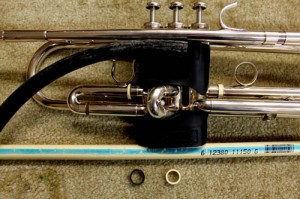 I have continued to test and evaluate the merits of this approach to better intonation and have some additional information for my readers.
I have been playing every day with the ring inserts and have become convinced that the rings help intonation problems and I'm still fine tuning the lengths of each ring to improve my horn even more.
Each day I make notes when recognizing undesirable pitch discrepancies and evaluate the value of making length adjustments to each ring insert. If one note is the slightest flat or sharp, I evaluate the benefits of slight adjustments to that note and the corresponding effect this change will make on the pitch of other notes using the same valve. Each day I try to refine these adjustments and I think I am about to be content with the lengths of the ring inserts.
Now for something I did not anticipate.
As I become closer to usable adjustments, I have noticed the passage between notes has become much smoother. I no longer have to lip notes in tune or make any lip adjustments to the low D and C# which is a difficult habit to break. Every note seems to be "wider" in feel. What I mean by "wider" is that each and every note seems to have a smoother, more rounded edge to its sound and response. To younger players this might sound a little strange but to a seasoned player, I think they know what I'm talking about. The transition between notes is smoother and more connected. I have no idea as to the reason for this but for the past two weeks I have recognized an improvement in my slurs as well as a more connected feel when playing scales. Octave slurs are smoother and I love the sound coming from my horn. It seems to be darker in tone quality.
I have been wondering why there have been no comments on this concept to improve intonation using this new idea so I searched the internet, trying to find any conversations on the topic. After several days, I finally found a small group of players who were actually discussing my blog page. In order to share opposing viewpoints on my posting, I have included their discussion as well as my response to their comments.
The following was posted on a discussion board and with these comments are my rebuttals.
Original comments are in bold type and my response in in plain type.
I would like to thank the person who took the time to read my article and share his/her thoughts on my suggestion for an alternate way to compensate for intonation problems on our trumpets today. I had no idea that so many people would read and try my suggestion. Oh, wait! After reading the many comments on this site I realized that no one actually mentioned that they tried my suggestion. Well we are all very busy aren't we and it is much quicker to send a two line condemnation than it is to take the time to try it.
Well on with my rebuttals.
"I take issue with the fact that the author makes it seem like you only "ever" (the word ever is not needed) need to use your slides for those two notes".
Actually in my post, I indicated that the two "most out of tune notes" on a three valve instrument were the low D and C#. Mentioning all of the others would have extended the article far beyond the limits of the page as well as the limits placed upon the reader's attention span.
"I'm happy to be in a setting where my colleagues "mostly" (the word mostly is not needed in this setting) know how to use their first valve slide as well (as well as what? You need to complete this reference). ( a (,) should be added and the sentence and finished- ,it's far less stressful that way".
I hope you don't mind that I edited your sentence.
"But at the same time that's a big enough deal to modify your horn and your embouchure to make all of the rest of the notes in tune… Ya this seems awful".
I'll have to pass on this one for I have no idea what the person is trying to say.
"It's so TEDIOUS to have to move the third valve slide. It's so much easier to play everything out of tune, can't I just do it that way"?
I love your sense of humor!
"I would think someone with the username pockettrumpet would be pretty well versed in playing out of tune… ;-)"
I'm staying out of that one.
"Let's fuck up the tuning of the entire instrument so that two notes that you rarely use are in tune."
Well spoken. I sense that you are a lead trumpet player and seldom venture into the world of staff playing.
"I think you're onto something here".
Careful, you may be venturing from the flock!
"I applaud him for trying to think outside the box. Too bad this idea isn't a better solution to the status quo of kicking out slides".
Thank you for your comment and my only question is "have you tried it"?
"In the time it takes to do this, one could sit down at a piano and just learn to play those notes in tune…"
Many have tried, few have succeeded.
"Terrible idea. A good horn should slot well and you should only have to kick the 3rd slide out for the D & C#. Having to drastically lip every note (according to this idiotic recommendation) will go against the natural slotting (the sweet spot without lipping up or down where the tone sounds the best and feels the easiest on the chops), each note's timbre sound different (you want timbre the same whether playing high or low), and wear your chops out really fast. Kicking a slide out to make a note in tune will still keep the note sounding in the sweet spot and save your chops. Soapbox rant complete".
1. Have you tried it?
2. Few horns are able by themselves to "slot" on the fifth harmonic. And I will not mention the problems Bach horns have on their G just above the staff.
3. I never said that you had to drastically lip any note in fact I seldom have to lip anything now that I have the inserts adjusted.
4. Wouldn't it be nice to have every note sound the same? My reply to that is No!
5. Your points were strongly written and even though I do not hold to some of your ideas, I thought your comments were presented well.
"I just kind of generally think that thetrumpetblog.com is made to appeal to the lowest common denominator of trumpet player. The blog reviews anything and everything, doesn't get terribly in depth (despite the length of some of the articles) and is written at probably a 6th grade level. I wouldn't be shocked if I found out that it was some kooky marketing strategy put on by Woodwind/Brasswind".
"I just kind of generally think"…….. what was your reference? "written at probably a 6th grade level"
Most of my posts, as you have implied are directed to younger players for the younger students of the instrument need direction and I feel that my posts are helpful for them. Many times the older and more experienced players as yourself have already become giants in their field of musicianship and have found everything needed to become the famous player they are today. Speaking of levels of musicianship, if you have time visit my site and share with us your achievements on your instrument. I'm sure we would all be very impressed. Oh, and to make sure you are not shocked; my only contact with Brasswind is for making purchases.
"The weird thing about the article is it makes it seem like this is some radical new solution. What he's actually done is reverse the fix to trumpet intonation problems (adding in adjustable slides)".
It is a radical idea, whether it is new I can't say and it was never professed to be a "solution", only a possible alternative.
"The triggers you find on cornets are much easier to use than trumpet finger rings in my opinion, I don't know why they never caught on for trumpets. The Connstellation had one on the first slide and the Olds Recording had one on the third but you don't see them on modern horns".
I agree, triggers on valve slides are easier to use than saddles or rings.
Your comment about the Connstellation was interesting. My good friend and teacher Don Jacoby played a Conn all the time and one of the complaints he had was that the lever did not extend the first slide far enough. After playing with Don and subbing for him in clubs in Dallas, I'm sure he didn't worry too much about intonation unless it was a recording situation. I looked down his lead pipe one night and had a hard time even seeing light through it. Moving on to your comments about the Olds Recording trumpets and cornets. I owned and played both for many years and wanted to cut the third slide lever off my horn for it had the same limitations as did the Conn. Levers seldom adjust far enough to correct intonation problems. For those of you who are symphonic players, you would have the same attitude if you were playing an orchestral number which required a low "F". I performed with the Barnum and Bailey circus and the third cornet part was written down to an "F". The reason manufactures dropped the triggers was for the fact that they didn't work and would be cheaper to manufacture. Most players didn't want them. Someone earlier mentioned the word "Radical" which reminded me of another teacher and good friend Mr. John Haynie who taught for many years at North Texas State. His solution to the intonation problem was to place a lever not on a valve slide but on the main tuning slide. His efforts to make it work were valiant but unfortunately not practical. Now THAT was radical.
"I have conventional rings on my cornet and frankly, my fingers are stubby enough that I can't use the 3rd slide ring unless I jerry-rig something onto it so I can move it outward … I've seen a really nice cornet in a store that has these trigger things and they look super cool and a great solution to the problem, for me. Until then, well, I'm not kicking any slides out ever; this may be bad".
You sound like someone who could benefit from my "radical" idea.
In closing I would again like to thank all of you who read my post and to the others I pose this question….
If you are so convinced that my suggestion for a possible alternative is so "awful", "weird", "worst ideas", "idiotic" and a "terrible idea", why didn't you leave your comments on my site so that we could discuss your thoughts in a productive manner? This is the first time I have visited this site and from what I have read, it might be the first and last. Next time you come across a new idea, be sure to try it before you condemn the originator.