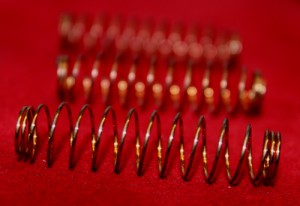 With all the advances in trumpet materials and design, you would think someone would do something to improve our valve springs. There is one thing that you can do yourself to possibly improve the performance of your instrument. And the answer is inside your valve casings.
Valves are made to go up and down when we perform and in most situations, they work well. Sometimes they stick and in most cases a good cleaning will solve that problem. But if a nice warm bath and cleaning has not improved your valve action you might consider changing your valve springs. After years of playing, even the best springs will loose their strength to some degree and replacing them might be just what you need for a better playing instrument.
Another possible improvement in valve spring replacement can be made when you want to improve your finger strength on your valves. Valve springs are in most cases designed about the same. If the spring fits into the spring holder without touching the inside walls, it will work on your horn. Some springs are built with more resistance than others and for that reason; you could replace your original set of springs for more resistance. By making this switch, you will be adding to increase the resistance in each of your valves and train your fingers to push the valve down with more force. This is a great way to learn to bang the valves down as "Doc" Severinsen used to preach in his lectures. I also remember my former trumpet teacher Don Jacoby saying, "when you push your valves down, you should hear a pop". Adding stronger springs will help strengthen your fingers and when returning to your original springs, you will be amazed at the increased strength and speed you will have developed.
If you are unsure as to how strong your valves springs need to be, just play something very slow and see if the depressed valves return to the upright position as quickly as your fingers. When you lift your fingers from each valve the finger buttons should stay in contact with your fingers. If your finger leaves the button as it is lifted, you need to add more strength to your springs. Sometimes you can slightly stretch the springs to give you more resistance but if you do stretch your springs, be very careful that you don't over do it for you will not be able to redo any damage you have done by over stretching. You also need to be sure that when you stretch your spring, it must remain straight. If your spring ends up looking like the letter C, you had better order some new springs for a bent spring will not work as it should inside the valve casing.
Increasing the resistance can be taken to an extreme as a student and I found out many years ago. The student complained that he didn't have enough strength in his fingers so we decided to increase the resistance from a set of 7 oz. springs to a set of 9 oz. He was not satisfied with the change so we tried 7 oz. inside the valve and added a second set of 7 oz. below the valve. He was satisfied with the added resistance and continued to practice that summer with the extra set of springs. When he returned the next fall, I asked him how it went and he proceeded to push his valves down with crushing speed. He was very satisfied and I was happy he was satisfied. For most situations, this would be considered a bit excessive, but for him, it did the trick.
While preparing this post, I checked every repair shop on line which offered trumpet valve springs and could not find one that offered springs in different resistances. That is unfortunate for I was able to collect at least three different resistances for my own use. Each set was interchangeable in my Schilke, Bach, Getzen and Yamaha horns. The best way to start collecting valve springs of different resistances would be to ask your local instrument repair shop to show you all the trumpet springs they have in stock and test each for different resistances.
With all of the money being spent today on custom made, ultra light, ultra heavy, extra fast, and titanium with mother of pearl insert finger buttons and special alloy valve caps which will increase you upper register by three octaves, it is a wonder that no one wants to offer the trumpet world better valve springs. Could it be that there would not be enough markups in price?