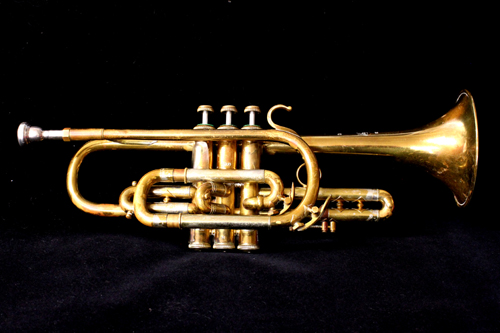 To quote one of my favorite singers, Billy Preston, everything goes 'round in circles
And so does the history of this cornet.
Once upon a time in the city or Waterloo, Iowa, a young seventh grade boy worked odd jobs and regularly delivered over 100 newspapers in order to save enough money to purchase his new Bach Stradivarius Cornet to play in his school band. The year was 1956 and the price of the instrument was a staggering $300 which in that day ways a great deal of money. The young man played his cornet for the next three years and eventually lost interest at which point he placed it in storage for the next twenty-six years.
Then, in 1985, the cornet was given to the original owner's nephew after the nephew developed an illness which eventually took the nephews life. The cornet was returned to the original owner in 1998 and again returned to storage.
Now, it gets interesting…….
The Cornet was purchased at the Carl B. Schultz Music store in Waterloo, Iowa. I moved to Cedar Falls, Iowa (adjacent to Waterloo, Iowa) to begin teaching at the University of Northern Iowa in 1969 and not only knew Carl B. Schultz, but had hired him to play in my Dixieland band at that time.
Now it gets even more interesting……..
After retiring from UNI, my wife and I moved to Branson, Missouri and built a home in an area called Sunset Cove. Then, one evening while enjoying a dock party on Table Rock, I was introduced to a new resident who mentioned that he used to live in Waterloo, Iowa. We struck up a conversation and that is when he said that he used to play cornet and wanted to know if I would like to see his horn. Of course when the name Bach came up, I arranged a time to pick up the horn and try it out.
Now the most interesting……..
When I opened the case and took the instrument out to play, I noticed business a card in the case which read, Carl B. Schultz Music Store. That set me back a little and after calling the cornet's owner to explain, the cornets history began to unfold.
1956- Horn was purchased
1959- Horn was played in school band
1963- Horn was placed in storage
1985- Horn was given to a nephew
1998- Horn was returned to original owner
2009- Horn was loaned to me
I have included some pictures of the instrument as well as a solo I recorded on the horn.
To quote a well-known figure from the past, "Now you Know The Rest of the Story".
You may also find this interesting- Why did the Cornet become a second rate citizen?