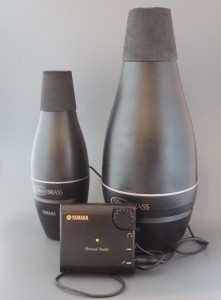 Created by Yamaha's wind instrument design team, the PM7 Silent Brass pickup mute is made of lightweight plastic, with a unique rubber sealer to hold it securely in the bell. When used with the Silent Brass system, it has none of that stuffy restricted feeling of conventional practice mutes. In fact, it blows so close to a natural open horn that you simply won't believe it until you actually experience it for yourself. Play high or low, loud or soft, and your pitch will remain true and centered. A special microphone inside the mute relays your sound to the Personal Studio.
Product Features
The input jack allows a quick and easy connection to a Yamaha pickup mute for practice or to a Yamaha MC-7 instrument mic for performance.
One of the things we carried over from the previous generation was the Aux In jack.
The player can then play along with their favorite song in practice and performance settings and put the fun back in their practice sessions.
This jack allows an external sound source to be combined with the signal coming from the mute or microphone.
Technical Details
Silent Brass system for trumpet. Includes ST9 Module. The new and improved Silent Brass systems have been redesigned to include everything a player needs and nothing they don't. It is smaller and lighter while still maintaining the quietness and pitch accuracy that Silent Brass has become known for. Smaller, lighter and more portable. The redesigned Silent Brass module is smaller than acassette tape and weighs about as much. It fits easily into a shirt pocket and can be attached to the player.
Now here is my opinion of the product
The Silent Brass System has been around for some time and the first I heard of it was when I was playing for Bobby Vinton. One of the other trumpet players was warming up on one and he shared it with me. I ordered one for my trumpet as well as my flugel horn. I keep one in my trumpet case at all times. I have not found anything that comes close to benefits of this mute. No matter where you are, you can get a few notes in before a show or concert and no one can tell. I have even used mine during a orchestral concert. Although Yamaha refers to the mute as silent, it isn't. It does bring down the decibels enough that a person in the next room will not hear you playing so for that reason alone the mute is worth the purchase price.
The complete system includes the following items- pickup mute, cable (used to attach mute to Personal Studio), ear buds, battery and instruction manual. I might mention that the booklet is 43 pages long only because it is printed in five different languages. The actual material written in English is only eight pages and gives the new owner very little information other than what not to do.
My first impression of the mute was positive for I found the mute to be well designed and very sturdy. As I said before, I purchased both a trumpet and a flugel horn mute and both are well made. The hard plastic has held up perfectly over the past six years and neither show any wear. The rubber collar which seals the mute to the inside of the bell is still in perfect shape and does the job perfectly also. I have had no issues with the cable or the Personal Studio (the electronic part of the system) and all connections have been tight and designed well.
Other players have reviewed this system and for that reason, I have included their sites where you can gain more technical information.
This site is a great source for trumpet related information and should be checked regularly for added postings. It is produced by Mr. Jim Donaldson and his comparison of the Yamaha Practice system to several other practice mutes is very helpful. Check it out.
Another site which includes testimonials from many trumpet players on which practice mute they like and dislike.
Much information about practice mutes can be gained from reading these  accounts from actual players.
Personal observations while using the Yamaha PM7 and PM6 mutes
Through the head phones, it sounds like a cup mute
The resistance is more than a cup mute.
The sound of the valves is as loud as the notes.
You tend to play softer because of the amplification into the head phones.
The increased back pressure gave me the same affect as playing on a shallower mouthpiece.
Real headphones work better than the ear buds.
Slurred notes don't lock in as well as open horn notes.
Notes below the staff tend to be "mushy" and un-centered.
The added weight sticking far out the end of the bell slightly affects pivot of the horn.
The added weight on my flugel was more than I would put up with.
Some slurred interval slide in and others "pop" into pitch.
My upper register improved by one step when using the mute (due to increased back pressure).
The electronically enhanced reverb can be addictive.
The notes from low C down were not playable on my flugel with the PM6 in place. (I got a double and triple buzz on all of the lower notes).
Intonation changes on my Flugel (Conn Vintage 1) Lead pipe had to be pulled out about an inch to play an A=440 in tune.
Any notes played with 1st. and 2nd. valves were very sharp on the flugel.
Intonation changes on my trumpet (Yamaha Custom Z). Tuning slide had to be pulled out about an inch to play an A=440 in tune.
Most of the out of tune notes were flat on the trumpet with the mute inserted.
My opinion of the total system
Yamaha has made a great mute and I will continue to uses it as a warm-up mute.
The use of this system should only be used as a temporary solution to the volume problem.
The product is well made and very sturdy and should last a long time.
The Flugel horn mute (PM6) is way out of tune and some notes are impossible to play.
My shoulders and arms began to tire after only ten minutes of playing with the flugel horn mute in.
Both mutes will work fine if all you need to do is warm up.
The electronics are fun but in my opinion servers no real purpose.
With all the cables attached, I felt as if I was in an intensive care ward.
Even though the reverb is fun, I would rather play without it. It's too flattering.
The excessive valve noise was distracting.
The added backpressure of the mute coupled with the slight amplification in the head set makes you play softer than you think you are playing. If you have a problem with over blowing, this would be very effective in bringing down your volume during practice.
My Conclusion
Yamaha has made a very fine practice mute and I strongly recommend it. The cost of the mute alone is around $95 and the complete system will cost you $125. Save the difference and buy more etude books and solos or take your wife/husband, girl friend/boy friend out for dinner instead.