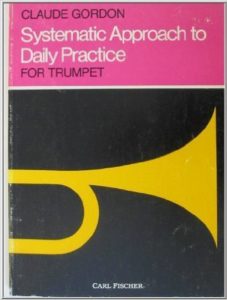 Now we will complete my review of the Claude Gordon "Systematic Approach to Daily Practice".
As I stated on my first post when speaking of this method, I mentioned that it is a complete and structured outline of what you need to do to become an accomplished musician on a trumpet. Everything is there and is explained in a very simple yet effective manner. If you follow his instructions as indicated, you should continue to develop your trumpet playing skill in the following areas-
• Range
• Flexibility
• Valve control
• Air usage
• Tone
• Articulation
• Endurance
What other method book can make those claims?
If you suggest the Arban Complete Method, remember that even though it covers several areas listed above, it lacks any substantial range exercises and pedal tones are not mentioned or even possibly known back then.
As you progress through this guided method your lessons continually become more difficult and the possibility of anyone completing all the material in this method is slim. Every lesson is geared to slightly challenge you more and more. Mr. Gordan has compiled a set of exercises which progress slowly in all directions as he adds tonguing exercises, flexibility exercises and finger exercises to each lesson.
"PRACTICING REGULARLY ON SYSTEMATIC APPROACH TO DAILY PRACTICE WILL BETTER YOU AS A TRUMPET PLAYER-
I GAURENTEE IT!