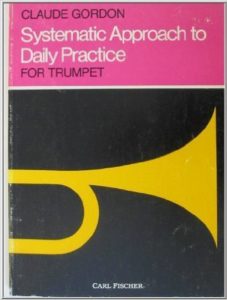 Now let's start first with the Claude Gordon method.
Why is this method so helpful when learning to actually play your trumpet? I will list some of its features and discuss the advantages of this total "Systematic Approach to Daily Practice".
Systematic Approach to Daily Practice is complete by itself!
Many methods cover a few areas of trumpet playing and leave out other areas which need to be addressed. Mr. Gordon, on page 5 begins with an attitude about your playing and has covered many physical as well as mental topics you need to know.
Systematic Approach to Daily Practice is based on the belief that through the use of pedal tones, a player will be able to increase his/her high range. If you have considered and tried this concept and feel that it has no place in your daily routine, stop reading for without confidence in this process, this method will not be of interest to you. For those who have tried pedal tones and feel this practice is beneficial and for those who have not tried them and are open minded to the challenge, continue reading. I have used pedal tones throughout my career and am totally convinced that they are beneficial.
While I was attending North Texas State as a Master in Music candidate, I worked on the Gordon with constantly. When I reached my ultimate high note (Eb above double high C) I made note of the date on the page of the exercise. The method does work and even today I am learning more and advancing more because of the exercises.
Before you start adding the exercises to your daily routine, be sure to read all of the material at the beginning. Currently there are discussions being circulated in trumpet bulletin boards wondering exactly what Mr. Gordon meant when explaining the correct way to tongue notes and for now I will only say that using the correct term is less important than understanding the full concept.
How do pedal tones work and why are they important?
• Pedal tones relax the lip muscles.
• Pedal tones increase blood flow.
• Pedal tones decrease recovery time.
• Pedal tones tend to open the aperture between the lips.
• Make you feel good!
Beginning with Lesson I
Why are you instructed to rest 15 minutes after playing pedal tones?
• After playing a series of pedal tones, your lips are slightly swollen.
• If you proceed to playing high notes without resting the appropriate amount of time, it may do damage to your lips.
• Resting for 15 minutes gives you a break from practicing which can be helpful.
• The 15 minute break gives your lips a chance to recover from the swelling.
• Pedal tones tend to make the player increase the amount of air they are expelling.
• Pedal tones tend to make the player breathe deeply on intake.
How can a player keep track of the pitches as he/she descends into the pedal range?
• Softly preface each pedal tone with the pitch an octave above.
• Check your pitch frequently for accuracy.
Why does the player need to rest one hour after the high notes?
• The player has just gone through the hardest part of his/her routine and needs the time to rest the lip.
• Although this long break may upset your practice time, it is vitally important to follow this suggestion.
Why are you told to play with such extremes when breathing in and playing out each exercise?
• The amount of fuel (air) in your tank is very important.
• Big air in……big air out.
Why are we asked to make three attempts for the highest note?
• If you miss the highest note you may achieve it on your next or third attempt.
• By trying three times you are recreating the situation which will help you develop more consistency and accuracy.
• By repeating three times, you are solidifying all the notes before your highest note.
One thing I would add to this routine is this-
Mark your highest note with the date so you will be able to see if you are improving.
In my next post, I will explain the importance of the additional material you will be practicing in this method.