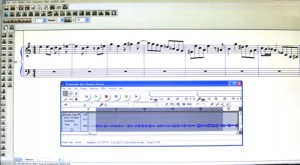 We have had a few questions about an easier way to transcribe solos and copy arrangements off recordings and I will share a few tips which will make this laborious and time consuming process a little easier.
Start with our old friend Audacity or any other recording program which is able to reduce digitally the tempo of your recording without changing the pitch.
Step #1.
Record the solo or arrangement and save.
Step #2.
In the Edit draw down, select the "all" feature.
Step #3.
From the Effects button, click on "Change Tempo"
Step #4.
In the Change Tempo window, move the slider to the left until you reach 50%.
Step #5.
Click on OK and wait.
Step #6.
Now that you have your solo or arrangement slowed down to half the original tempo, highlight the first four measures of the material.
Step #7.
Work on this section by repeatedly clicking on the "play" button.
Step #8.
Continue by four or eight measure segments until you have completed your copy.
By slowing the original material down to half speed, you should be able to figure out the notes more easily. On more complicated and more rapid material, slow the tempo down even more.