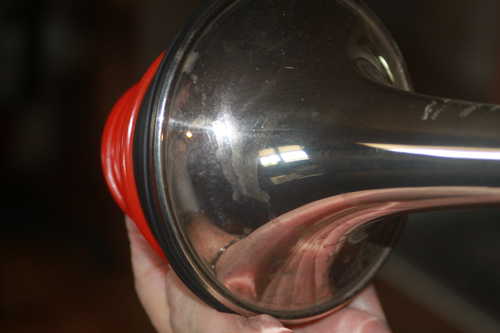 What looks good on a score sometimes does not work as well as one might anticipate as this situation illustrates.
I ran into a challenge recently which made me look for a nontraditional solution.
On one of my parts was the example below-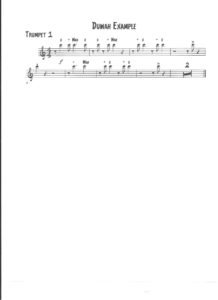 At first glance, I thought it to be a challenge but not a problem. Then I tried playing it. When using my ever trusty new plunger, the high C's tended to "break" and I was having a difficult time getting all of the DuWahs to sound the same. Even after practicing, it didn't seem to be improving so…. I needed to find a way to be consistent and at the same time sound like a conventional DuWah.
A half valve solution turned out to be simple and yet still convincing in sound. All I had to do was to play open on the open notes and half valve the "DO" notes and lift the valves for the "Wah" effect. That instantly solved my problem. The sound was the same and being able to play with both hands on my horn made every high C more secure to play.
What is very easy to play an octave lower is not the same animal when played up an octave.
Below are three examples of the same passage with the third performed down an octave to demonstrate how easy the lower octave is when compared to an octave higher.
1. Half Valve

2. Plunger

3. Lower Octave

As with most difficult playing situations, practice until you can't improve and when all else fails, cheat.