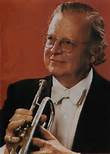 You would have to be over 75 to have vivid memories of the Chicago Symphony Orchestra before Adolph "Bud" Herseth helped create the modern fame of one of the world's great musical enterprises.
For Bud — and everybody from lifelong colleagues to radio listeners who never saw him in person called him Bud — joined the CSO as principal trumpet in 1948, at 26 years old, and held that seat for an astonishing 53 years, staying on with the orchestra as principal emeritus for three more seasons and not retiring from the orchestra until just before his birthday in 2004.
He remained a regular presence at Orchestra Hall concerts and events until this year, when his health took a turn.
Mr. Herseth, who died Saturday at age 91 at his home in Oak Park, was central to the CSO's key recording era, the decade under music director Fritz Reiner in the 1950s and early 1960s, and he formed an unshakeable bond with Reiner's eventual successor, Georg Solti, as Solti began his triumphant series of European and world tours and Carnegie Hall appearances.
"His life was long, well-lived and so magnificently filled with extraordinary music," CSO president Deborah Rutter said in a statement. "The contributions he made to classical music, trumpet playing and certainly to the CSO are incalculable."
The brass sound that became so associated with Chicago grew out of the virtuosity, stamina and seemingly supernatural clarity of Mr. Herseth and his late colleague, principal tuba Arnold "Jake" Jacobs.
"He was unprecedented in the quality of his work with the CSO," the orchestra's second trumpet, John Hagstrom, said Sunday. "He was a role model for virtually every aspiring trumpet player that ever heard him play. He set standards of excellence, and he was unfailing in his work ethic and set high expectations of himself throughout his many years of being a performer."
With trombone Jay Friedman, still a CSO principal, horn Philip Farkas in the Reiner era and then Dale Clevenger heading that section from the Jean Martinon years in the mid-1960s until his own announced upcoming retirement, the Chicago brass sections attracted acolytes and could ensure that only the best players took auditions here. They set and upheld sometimes fearsome standards of excellence that were based first and foremost on being orchestral musicians and section builders and leaders.
Herseth shied away from a solo career, though he played memorable solos in the small number of concertos for his instrument played by the CSO.
But his sound in such orchestral standards and Chicago recording landmarks as the "promenade" parts in Mussorgsky's "Pictures at an Exhibition" and Gustav Mahler's Fifth Symphony were unmistakable, whether coming from a dorm room hi-fi or the stages of Orchestra Hall, the Berlin Philharmonie, the Vienna Musikverein or halls throughout Asia, Russia and Australia.
At home and abroad, CSO guest conductors would see large crowds at the stage door after a concert, only to be ignored by them as they rushed towards Mr. Herseth seeking an autograph, a handshake or a coveted appointment for a private lesson.
Mr. Herseth was never about celebrity, and especially in his later years could even be surly with his well-wishers, but they never seemed to mind. On one tour to Japan, fans rush across a large atrium toward him as if toward the Beatles, while Mr. Herseth started swatting them away as of they were an unwelcome swarm of bees.
When a retirement concert was arranged, it was a constant challenge for CSO administrators to find a way to please and honor Mr. Herseth without appearing to have him "toot his own horn," as he put it. Ultimately, the participation of Doc Severinsen, six years his junior and the other half of an instrumental mutual admiration pair, assured Mr. Herseth that the combination of performances, brief tributes and even Mr. Herseth's Orchestra Hall conducting debut with some Gabrieli brass numbers was neither an ego trip or an event of phony flattery.
Hagstrom, who sat next to Mr. Herseth for several years, recalled, "He used to turn beet-red when he played. He turned so red, he almost turned purple. Whether that was from him growing up in the cold in Minnesota, I don't know. … You'd kind of get worried about him, but he was fine.
"He told a story of how a conductor once saw him do this and said to him, 'Mr. Herseth, maybe put on some powder.' … But he'd say. 'Well, it shows people I'm trying.'
In keeping with his devotion to orchestral and brass ensemble music — famous recordings were made with sections from other leading orchestras — Mr. Herseth could mold and adapt his sound to the conductor at hand, and both Daniel Barenboim and Pierre Boulez, each quite different from Solti, enjoyed their long collaborations with him.
Mr. Herseth even volunteered as a coach in the early days of Barenboim's West-Eastern Divan for young Arab and Israeli musicians.
But it was Solti he always called "my maestro," or even "my captain."
A few years after Solti's 1997 death, when the orchestra made a European tour with Barenboim that included Budapest, Solti's hometown and his burial place, Mr. Herseth and the conductor's widow, Valerie Solti, organized a trip to the cemetery where Solti was buried, next to Hungary's great composer Bela Bartok.
Mr. Herseth carried no trumpet but had his ever present mouthpiece, and on it he played a haunting, even delicate rendition of "Taps." It was an elemental moment, and Bud was always elemental.
Mr. Herseth is survived by his wife, Avis; two children, Christine Hoefer and Stephen; six grandchildren, and five great-grandchildren.
In lieu of flowers, the family has requested donations to the Chicago Symphony Orchestra, Luther College, or the West-Eastern Divan Orchestra.
Services this week will be private, but an open house celebrating Mr. Herseth's life is in the works, as is a memorial concert.
Contributing: Mitch Dudek. Andrew Patner is critic at large at WFMT-FM (98.7).