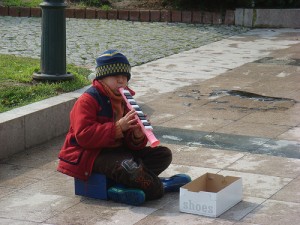 Whether you have played an instrument before or you are a first timer, learning or relearning an instrument can be exciting and fun. There are many advantages to being in the twilight years of your life. One advantage is that no one expects much out of you. I celebrated my sixty-ninth birthday while playing a seven day a week show in Branson. The trombone player asked me how old I was and when I told him, he stared intensely at me and said, "That's amazing". I'm not sure what he really meant but I took it as a compliment to my playing not the fact that I was still playing. As an older musician, I enjoy performing because you have nothing to prove and you have already done more than most of the younger players will ever accomplish.
If you are now interested in learning a new instrument or returning to your old, retired instrument, I would like to encourage you to do so. Learning a new instrument can be easier if you select an instrument written in the same clef that you previously used. Learning the notes in a different clef can sometimes be confusing and the added time necessary to convert would be better spent on your playing techniques. If you have had experience playing the piano, this might not be a stretch for you. Conversions from a valve instrument to another valve instrument are also easier than to a slide as in the case of the trombone.  The transition from trumpet/cornet to treble clef baritone is a very easy switch for most comeback musicians. If you once played on a larger mouthpiece such as a baritone/euphonium/tuba, the smaller mouthpiece used in a trumpet may be more difficult.
Another advantage an older person will have when returning or starting a new instrument is the fact that older people have more time to practice. If you have decided on your new or returning to you previous instrument, you should be aware of a few issues you may encounter.
Don't expect to be as good as you used to be, you won't.
Even though you may have the desire and the time to practice you still are using old muscles and you will need to do your practicing for shorter periods.
Endurance and range are your two greatest challenges.
When first coming back to regular playing, expect your range to be good and your flexibility to be strong but your endurance very short.
As your endurance starts to increase, don't be surprised that your range decreases and you lose your flexibility.
Try to stay away from four hour dance jobs until you have gained a lot of strength.
Start performing on very easy solos and lower ensemble parts.
Begin your solo performances in your own church, everyone will tell you how great you were even if you weren't.
If you are returning to your old instrument, be sure that it is in good working condition or if it is beyond repair, plan on replacing it before you begin your comeback. Starting fresh with a new instrument will help speed up your development and the improvements made on newer instruments have been substantial. Plan to spend as much time on the Internet as you spend practicing for the Web can be of great value to you as you begin to have questions. One of the best sites for helpful hints can be found at TPIN. If you have any questions about trumpet playing, you can post them and within minutes, fellow trumpet players will return your post with what they feel is their answer to your questions. As you search the Net for helpful information, you will find hundreds of sites with information from how to breathe to buying used instruments. As with anything on the Internet, be couscous of anything you are not sure of. The TPN site has covered the topic "Comebackers" fully and you will be able to find many posts already in the archive section.
After retiring from fourty-five years of teaching and playing, I sold my horns and turned to fishing. After five years of fishing I was asked to split a concert with a local choral ensemble in Branson. I asked when the concert would take place and found that I had two weeks to get back in shape for the concert, I had been off the trumpet for five years and now I had to be in shape to play a thirty minute recital. I got it done and have continued to play since. I have enjoyed performing with the following organizations since that concert- Lawrence Welk, Bobby Vinton, Les Brown, Jerry Presley, The Rat Pack, Les Elgart and perform regularly with my own chamber group, the Branson Trumpet Ensemble. If I can return to playing after being off five years, you can make a comeback also.