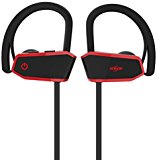 Now how was that for a title?
For those not familiar with Bluetooth technology, welcome to my world. I'm in the same situation. But, we need to catchup with the technology in the world around us no matter how old or illiterate one may be. Even yours truly.
What is Bluetooth?
Bluetooth is a wireless technology standard for exchanging data over short distances (using short-wavelength UHF radio waves in the ISM band from 2.4 to 2.485 GHz) from fixed and mobile devices, and building personal area networks (PANs). Invented by telecom vendor Ericsson in 1994, it was originally conceived as a wireless alternative to RS-232 data cables.
Bluetooth is managed by the Bluetooth Special Interest Group (SIG), which has more than 30,000 member companies in the areas of telecommunication, computing, networking, and consumer electronics. The IEEE standardized Bluetooth is IEEE 802.15.1, but no longer maintains the standard. The Bluetooth SIG oversees development of the specification, manages the qualification program, and protects the trademarks. A manufacturer must meet Bluetooth SIG standards to market it as a Bluetooth device. A network of patents apply to the technology, which are licensed to individual qualifying devices.
How will it affect my life?
Every electronic device that you click, scroll, play, print and possibly drive may eventually be connected to Bluetooth technology. At least until something better comes along.
What are Sbode Bluetooth Headphones and why do I need them?
Wireless, Bluetooth headphones are all the craze for those interested in being connected in such a way that you are not restricted to the limited length of your wire connector from your device to your headphones. Wireless also gives you the freedom to work at other projects and not have to trip over cables. You can connect your earbuds to a phone, computer, printer or any other device with Bluetooth technology. Driving your car and listening to your radio (although impractical as well as illegal) is also possible.
What is the first thing you do when your earbuds are delivered?
When my set came in the mail this week, the first thing I needed to know was how do they work and will I benefit from using them.
Step one was easy. After unpacking the unit, I began searching for a magnifying glass or a microscope in order to read the instructions. The instructions are even too small for the actors in the new movie "Downsizing". After stacking two pairs of reading glasses (one over the other) and placing the print as close to my very bright reading light I could without setting the paper on fire, eventually I was able to read my introductory information. For those of you in your declining years as I, you could also photograph the material then Photoshop it up 30 to 400Xs to be able to read your instructions. Another possibility would be to ask your grandkids to read it for you or better yet, just ask them to set it up for they probably already know how to do it.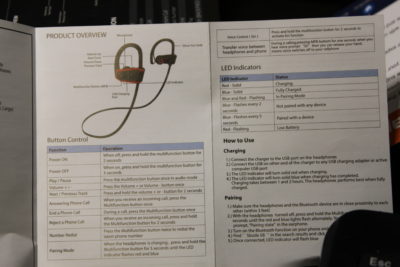 Step two is to "Pair" you earbuds with your device. Again, be sure to have your grandkids handy. After about twenty minutes of working with my wife, we were able to get her IPad connected to the headphones and actually hear something.
After I finish illustrating the lack of knowledge and insight two old people sometimes have to deal with, I will actually review this product so please do not consider any of my remarks up to this point to be any criticism of the ear buds. For those of you with similar limitations in the grey matter of knowledge of technology in general, please be assured that you are not alone.
Now that we have read all of the instructions and made the appropriate connections, I will now give you my observations as to the quality, workmanship and value of these beautiful phones.
Ratings for the Sbode Sport Wireless Headphones are listed from- one star * (poor) up to 5*'s (excellent)
Advertising- *****
Promptness in delivery- ****
Packaging- *****
Condition when delivered- *****
Instruction for setup and operation- *****
Ease in reading instructions- *
Inclusion of all parts with order- *****
Overal presentation of product- *****
Ease of operation- *****
Overall design- *****
Materials used- *****
Serviceability- *****
Comfort of fit- *****
Quality of sound- *****
Width of volume range- *****
Overall impression of product- *****
Appropriate price of unit- ***** ($23.99)
Additional comments-
When you open your box you will find that it is packaged attractively in a very nice, zippered container about the size and shape of one conventional head phone ear cover. Inside this convenient carrying case is the set of ear buds, a charging connector as well as four additional rubber inserts of varying sizes to fit most everyone's ear channel. This turned out to be very helpful in my case for my left ear channel is much more restricted than my right and after a few minutes in make the change, I was able to fit my set more comfortably in my ear than if I were given only one set of inserts. This feature alone sold me on the earbuds for long sessions of listening can be very painful if the fit is wrong.
My overall opinion of these little wonders is that I wish I had known of these before I spent over $80 on my last pair of wireless headphones which do not compare in comfort, price or sound quality.
In closing let me say that technology continues to improve and as it does, all of our lives are better because of it.
Would I recommend Sbode Sport Wireless Sport Headphones to my readers?
Most definitely….