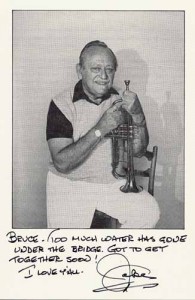 Jake is gone but not forgotten by many of us in the trumpet world who were fortunate enough to have known him. If you are interested in his background and accomplishments, I highly recommend Clint "Pops" Mc Laughlin's site . If you are interested in what Jake was really like, I can share two stories which might give you some insight into the real Don Jacoby.
When first locating yourself in a new area, it is to your advantage to make contact with one of the more active players in order for them to help you get work. This is what I did when starting my education at the then, North Texas State. The first person I became friends with was Larry Ford, then lead trumpet with the One O'clock Lab band in Denton, Texas. Through a friend, I was able to meet and become friends with Larry and through Larry, I was able to schedule lessons with Jake in neighboring Dallas, Texas.
Before I go any further, let me describe the flamboyant gentleman to you so that you understand what lessons and an eventual friendship was like with Jake. Jake was unique. His height did not match his warm, friendly, loud, outspoken, sometimes edgy character. When he entered the room, he owned the room. When he spoke, everyone listened. Don was not a wall flower and his opinions and views on everything was the only view. His laughter was seasoned with the raspyness of years spent in smoke filled clubs. His grip was confident and as sure as his attitude towards his instrument. I am not saying that Jake was arrogant for there was never a more kind and considerate person in the world. As most trumpet players know, there is a certain confidence that goes with the instrument and Jake had that certainty.
A typical lesson with Jake usually took the whole afternoon, followed by an invitation to share dinner with him and his wonderful wife Dori, followed by an invitation to join him at the club where his band was currently performing. That's how Jake was. He was there to help young trumpet players and for that the trumpet world was made better. During my first lesson the phone range, which was common, and from the one sided conversation, I could tell it was someone from a local recording studio. Eventually Jake turned to me and asked, "Can you sing"? That was not a question I was prepared to answer but I finally assured him I could sing. The telephone conversation continued, then I was asked, "what's your range?' It was then that I realized that Jake was trying to get me on a recording session as a singer! I love that story and let me assure you, I didn't get that job. I did get others through Jake and eventually move into Dallas and worked full time in the area, both playing and teaching.
Another life experience with Jake happened one evening when he called and asked if I would sub for him at the Club Village in Dallas. I had set in for him on a couple of occasions (extremely out gunned by the other members of his band- which members included, Lou Marini , Phil Kelly, Banks Diamond and Wayne Harrison who replaced Bobby Burgess after "Butter" relocated in Europe. On the few occasions when I did lower the standards of the band, I was petrified and could not understand why I was ever asked back. On one such occasion, I entered the club to take my place on the band stand and noticed another trumpet player on stage visiting with Lou Marini. At first the figure did not register but as I got closer, I realized that the trumpet player was Garry Grant, at that time the current lead player for the one o'clock. Louie saw me and explained that Jake had asked him also to find a replacement. What should I do, what should I do? My decision took all of one second and I bowed to the superior musician. It wasn't until recently that Garry's name came up and I was floored to think that we were both hired for the same gig.
For those who own Jake's last LP Jake Brings the House Down, notice the white dust coming from behind the mound of rubble where Jake is standing. The day they took the cover shot, they hired some neighborhood kids to throw sacks of baking powder in the air to simulate building dust. I thought you might find that interesting. I was in Jake's condo the week the record came out and he told me the story.
In closing, I would like to thank Don not only for what he did for me and my family, but also for the hundreds and possibly thousands of young trumpet players around the world. His playing and teaching were inspirations to us all. We who were blessed to have shared time with him will never forget his love and never ending excitement for the art of music.
Personal message to Jake- "Every time I put a shake on a note, I think of you and how you influenced my life".