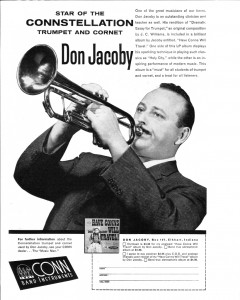 Throughout our lives, we sometimes think back to people who have influenced our lives. Such is my case when remembering one of my favorite trumpet teachers, Mr. Don Jacoby (or just "Jake" to the trumpet world).
It was a trumpet custom while attending North Texas State (now University of North Texas) to study with Mr. John Haynie on campus for your degree and at the same time study with Jake in Dallas for making contacts in the area. Both teachers were exceptional players as well as teachers and each excelled in his own area; Jake in commercial playing and Mr. Haynie in the technique of playing the instrument. Although this practice was common, neither teacher endorsed the other. The same situation was accepted when discussing your membership in one of the many jazz bands and participation in the University orchestra. In both cases, it was a "Don't ask, don't tell" issue.
My first contact with Jake-
A wonderful player and friend set me up with a lesson with Jake. This great player and good friend was Larry Ford, the current lead player for the world famous 1:00 Jazz Band at that time.
Taking lessons with Jake was not a normal lesson. After the usual greetings at his home in Dallas, Jake would invite you to join him while he finished watching a golf match, football game or any other sporting event he was enjoying before you arrived. For the next two hours he would dramatically expound his excitement at every pitch and putt as the time passed by. Eventually he would ask you to get your horn out for your lesson. Lessons sometimes lasted over an hour or as short as twenty minutes depending on how busy he was. Usually at the completion of your lesson, Jake would ask what you were doing for dinner or what you were planning that evening. You were always invited to stay for supper or join him at the club where he was performing. He was that kind of guy. During one of these "sit and wait" experiences I remember that it was in his home my wife and I watched our first color television. Boy does that age a person!
My second contact with Jake-
During my second lesson, Jake received a phone call from either IRI or PAM recording studio. As I waited for the conversation to end, Jake turned to me and asked "What's your voice range"? Not knowing the reason for his inquiry, I said "Tenor". As he continued his phone conversation with the party at the other end of the line, I began to realize that my trumpet teacher was now trying to get me hired to sing a commercial at the recording studio! On and on the studio was filled in on my background as a great sight reader and master of intonation and who would do a wonderful job on whatever jingle they were trying to record; all the time I am shaking my head back and forth trying to get out of the gig. He was always trying to help young players whenever he could; even if the musician had limited experience in the situation. That was Jake.
My next contact with Jake-
Through Jakes help, I was able to secure the second chair in the State Fair Band of Texas. During a Fourth of July concert in the middle of the Cotton Bowl, Jake joined the first chair player (I think his name was TBone) and myself in doing a peppy rendition of "Buglers Holiday". When I say "peppy" I actually mean, heart stopping, finger busting, lip spreading, fire eating version. I don't remember if we ever rehearsed the number with Jake for the tempo he kicked off was close to hyperspace tempo. Most musicians are content to count this well-known piece off in four. Not Jake. His only comment was, "let's make this interesting at which point he counted it off in a supper fast "CUT TIME". As the hammer went down both TBone and I shared the looks of disbelief. Subconsciously we shared the same thought- BIG BREATH AND HANG ON. The instant we played the last note, the place exploded. It sounded as if the Cowboys just won the Super Bowl as the Cotton Bowl roared. I will never forget the exhilaration as we shook hands and took our bow. That was Jake!
My next contact with Jake-
During another lesson I mentioned that I was thinking of moving to Las Vegas after I secured my degree. In no uncertain terms my teacher strongly argued that I would be better off staying in Dallas. He convinced me to stay and for that I will always be thankful to him for through my eventual contacts in Dallas and through a wonderful recommendation by my trumpet teacher at NTS (John Haynie) I was very fortunate to join the music faculty at the University of Northern Iowa where I stayed until retirement.
My next contact with Jake-
From time to time Jake would double book a concert or gig and a couple times he would call me to cover one of his jobs. On one of these occasions, he asked if I would sit in for him at the Club Village in Dallas. Those calls always generated an almost paralyzing effect on me for the musicians in Jake's band were the best players in Dallas; light-years above my ability. On one such occasion I showed up and visited with Lou Marini the sax player in the group. Jake had asked me to fill in his part and at the same time Lou had asked Gary Grant to fill the same chair. Obviously I relinquished the position and went home.
My next contact with Jake-
When our first child was born, Jake and Dory, his lovely wife gave us a very simple yet precious gift of an engraved diaper pin for our newborn. The inscription read "SAC" for Scott Alan Chidester. Those three letters also stood for SAC (Stratigic Air Command) which Jake held great respect for and each time we met, he would repeat the importance of the letters. That was Jake!
My last contact with Jake-
Many years ago I received a precious gift in the mail from Jake. He had just published his book, "Jakes Method" the trumpet method of Don "Jake" Jacoby. As I scanned through the pages, I came across a picture of my trumpet teacher with a inscription written at the bottom.
"Bruce- Too much water has gone under the bridge. Got to get together soon! I love Y'all".
Jake
I'm sure this message was sent to countless trumpet players around the world and for that I am grateful, for that was Jake.