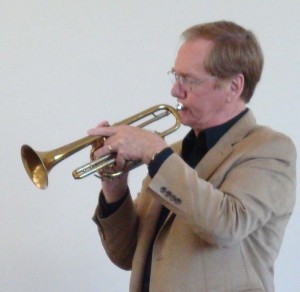 Announcing TrumpetLessonsOnline.com has now launched!
Checkout our FREE Preview lessons here before signing up.
_____________
25% discount through January 31st of this year!
Use code "25OFF" when registering for this discount.
_____________
For the past year, we have been compiling important information to share with our readers and students which will answer many questions they might have about playing the trumpet.
For almost six decades I have been performing and teaching trumpet and now I have made available an easy and productive series of video lessons compiled for trumpet players of all ages and all levels of performance.
Because of my continued involvement in teaching trumpet I have come across an enormous amount of questions and solutions to problems facing musicians today.
This series of video lessons encompasses more than 40 individual topics every trumpet player should know, including-
· The Importance of warming up and cooling down
· How to make easy and inexpensive alterations to your instrument to improve its performance
· Improve your high range through chromatic exercises
· The easy way to play shakes and falls
· How to improve the intonation of your instrument
· The proper way to clean your trumpet
· How to balance your practice time with difficult performances
· How to breath properly
· What are the best trumpet cases and why
· Learn how to control your nervousness when performing
· How to apply the "Play/Rest" concept to increase your endurance
· Learn exercises to improve your valve speed and control
· Learn how to improvise through several methods
· Increase your lip flexibility
· The importance of marking your music properly
· How to find the proper mouthpiece placement
· Learn the importance of playing pedal tones
· Recognize and correct excessive mouthpiece pressure
· How to properly prepare a solo
· Learn how to improve your sight reading
And these are not even half of the topics covered in this video series.
Now you can learn many of the secrets to playing trumpet which have been passed on to me from my teachers as well as new and advanced ideas such as-
· Learn an easy way to play low D and C# in tune without moving your valve slides
· How to use technology to improve your trumpet playing
· Learn how to choose the best music school to attend for learning your instrument
· What you need to know when playing in an orchestra or show
Along with videos, there are additional exercises and accompanying audio recordings which will help you learn your material faster and easier than you thought possible. Each recording is produced using my "Rest as much as you play" concept which will change the way you practice. The speed of your improvement will surprise you and you will begin to learn how to practice more efficiently and experience fewer lip problems.
If you are searching for a better way to learn your instrument which will take less time from your schedule and improve your trumpet playing at a fast rate, this is the solution to your needs.
_____________
25% discount through January 31st!
Use code "25OFF" when registering for this discount.
_____________
"This could be the changing point in your trumpet playing".