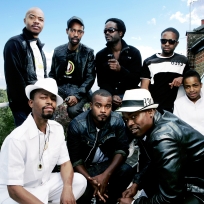 In our never ending quest to bring to the surface brass ensembles worth watching, I thought you might enjoy this more recent offering which has its roots in a far off time and space. The time is the 1950's and the space reference is Saturn where an important figure influenced the direction of this ensemble.
A big influence in the development of Hypnotic Brass Ensemble was the father of these brothers and an important influence in the fathers life was Sun Ra, an interesting figure in the 70's who professed to be from the planet Saturn.
How more wild can it get than that?
You will find an unusually large collection of videos on YouTube documenting the history of this group and to save time, I have selected the video which I feel is the turning point of this group which started playing on the Chicago streets and eventually developed into an interesting performance ensemble. I believe the turning point of their development came when they became associated with the drummer Tony Allen seen in this documentary.
I have also posted one of my favorite videos of the entertainer (?) Sun Ra to give you some background of the father's interests and direction so that you will understand what preceded the formation of the group Hypnotic Brass Ensemble.
HBE are eight brothers from the south side of Chicago. They come from an extraordinary musical family. Other sisters and brothers are professional musicians, their mothers are singers, and Philip Cohran, their father, has roots running back to Mississippi, his time in the musical hothouse of 1940s St Louis, and his seminal role with Sun Ra in Chicago in the 1950s. When Ra left for the east coast in 1960, Phil stayed in Chicago.
Sun Ra – A Joyful Noise