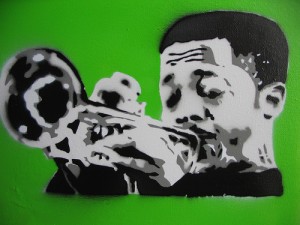 My first post in this series dealt with the contrasting characteristics of musicians wishing to learn to improvise jazz. The first example was the musician with the creative attitude for life and the second deals with the type of person who is more analytical. Learning to improvise jazz tends to fall in these two camps and if you are the type of person that enjoys plotting your trips with suitcases filled with maps, this is the post that might help you the most.
Improvisation can be taught through exercises which develop repetitious phrases and rhythmic patterns which when placed in the correct chord, can be defined as jazz improvisation. A very good friend of mine once said, "How can you practice improvisation when improvisation is to be spontaneous"? That is a very good question. How can you practice something which is supposed to be created for the first time? The truth is, improvisation is the relocation of patterns which you have learned either on your own or have heard others perform. These patterns when placed at the appoapriate chord location are called jazz improvisation.
I suggest that you purchase Volume 1 and Volume 2 from the series "A New Approach To Jazz Improvization" by Jamey Aebersold at this time.
Learning the chords
Knowing and understanding the notes, voicing and function of chords is vital when you are learning to improvise jazz. Many theory books have been written on this subject but for this post, I would direct you to the Jamey Aebersold Jazz Improvisation series of books. I recommend that you purchase Volume 1 first for the explanation of the notes and voicing of chords. The reason this series has been so popular through the ages is the fact that you will have a full rhythm section available when you have the urge to practice.
For those of you who are not familiar with this series, let me walk you through the makeup of most of the first volume.
Read this first– General information on the book.
Right Brain- Left Brain– Mostly a repeat of what I have covered on this topic.
Introduction– Repeat of what I have covered on this topic.
How to Use– This is the meat of the process and includes information on chord structure, symbols and recorded track information.
A guide for practicing any scale, chord, pattern or idea– This is the most important material in the instruction section and needs to be understood before beginning to practice the material.
How to begin playing with the recording– The CD includes a prerecorded rhythm section which you will be playing with. Due to the fact that instruments are pitched in different keys, the book has included transposed music for each instrument, i.e. trumpet (Bb), alto sax (Eb), guitar (C), etc.
Eighth note exercises and swing– This is very valuable to anyone who does not understand the concept of the word "swing". This section will give you all the patterns that you will need to start your new career as a jazz musician.
Additional Resources– Although there are many suggestions for additional materials you should check out, you must realize that this series was first published in 1967 and because of the development of the Internet, this material is grossly out dated.
Beginning to improvise for the first time– This is the most important material in the book. Read and understand everything in this section.
Check list– Common since material.
Extending your range– Common since material.
Developing creativity– Good information.
Starting a phrase or melody– All good material.
Music fundamentals to keep in mind when improvising– Very important and should be reread as you get further into the book.
What does "to hear" really mean? – Common since material.
Practice Procedure for memorizing scales and chords to any song– Very important.
Beats 1 and 3 are most important in building melodies– Very important and well written material.
Recommended transcribed solos books– Helpful but more material can be found on the Internet at this point.
The Bebop scale– Required reading and understanding.
Ear training– Required reading and understanding.
Pentatonic scale and its use– Very, very important!
Chromaticism– Very, very important!
Playing the Blues– After reading this section of Volume 1, I would suggest that you now begin your practice in the second Volume which is called Nothing But Blues. The reason I have made this suggestion is that by now you are getting bored reading and would like to get started playing. From the material you have already covered, you should be able to make an attempt at improvising and Volume 2 is more than enough to get you on the road. After you have spent a few days playing along with your personnel rhythm section, I suggest that you come back to Volume 1 and continue reading the remainder of the fist book.
Once you have completed both Volumes 1 and 2 of this series, the next book in this collection which I would recommend would be Volume 3.
The knowledge and application of the ever present II-V7-I chord progression will help you to get around in most song form tunes. After that I would suggest Volume 76 which will help you start building your jazz library as well as giving you more good ideas on improvising jazz. After mastering this material, I would expect to be seeing and hearing you on stage with the best jazz musicians. At least that is my wish to you.
Remember one thing- As Rich Matteson once told me, "If it doesn't sound good, move up or down a half step".