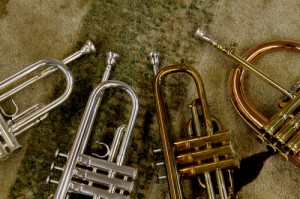 The first question might be, "Why would you want to form your own trumpet ensemble"? That is a great question and some days I wonder myself. But with all the work and time spent on the ensemble, I still enjoy the group. Our quartet, the Branson Trumpet Ensemble, has been performing for over eight years and the enjoyment and excitement is still there. Fortunately I am working with three great players and the time we spend rehearsing and performing is one of the most enjoyable activities I have had while living in Branson, other than a few very big bass and one 36 inch Rainbow trout I caught a couple of years ago.
Why start a trumpet ensemble?
If you are fortunate enough to be performing regularly in your area, you might not understand the need to form an ensemble. If you enjoy practicing by yourself each and every day you also may not need the experience of good ensemble playing. But if you are like most of us where the jobs are not all that frequent and you need to stay in shape for those intermittent gigs, playing in a chamber ensemble might sound interesting. Our concerts usually require one rehearsal before our performance so we are not burdened by many hours of rehearsing. When we rehearse, we get the job done as quickly as possible so that there is time left to share stories and do what trumpet player enjoy best, talking about our selves.
Why did we decide to form a trumpet ensemble rather than the more common brass quintet?
A brass quintet is by far more popular than a trumpet ensemble but what I was interested in was the opportunity to write for trumpets. Brass quintets are much easier to write for because of the different tonal qualities as well as the more extended range of the instruments but I saw the need for quality arrangements for trumpet chamber groups. There are a lot of trumpet players in the world that do not have access to quality trumpet ensemble literature. There is a large amount of difficult music written for college level players thanks to the attention given by the International Trumpet Guild for college level groups. But when I searched the internet for arrangements which would suit the average high school player,  I found very little material worth performing. Most of the trumpet ensemble music was written in the 1940's and were all named after flowers. If you have been around for any length of time, you know this very dated and uninspiring library. If you were a band director and wanted to send your Jr. High students to contest, forget it! There was nothing worth performing. So with this in mind, I decided to write trumpet ensemble music which could be performed by the average Jr. High group as well as the average high school group. Music of this level was also just what I wanted for my ensemble for all of the arrangements could be performed with the minimum amount of rehearsal time or could even be sight read at the concert. We do have some kickers in our book but most are high school level arrangements.
Why form a quartet?
Our group originally was formed as a quintet with one player performing on a bass trumpet. We encountered two problems with this instrumentation 1. Bass trumpets do not play in tune, and 2. The Bass trumpet player moved to California, with the bass trumpet. There were additional problems with five members in the ensemble. The availability of five trumpet players became a problem at times. If you form a trumpet quintet, you will have to have an additional two players on call in case  one of your regulars has a conflict. That would mean that to regularly stage a trumpet quintet, we would have to have seven players on your list to play. That was not a practical number of players to have to coordinate. If you have a dependable quartet, you would only need one or possibly two names to call in an emergency. I have found this very workable.
What will you be loosing with a trumpet quartet rather than a trumpet quintet?
With four regular players you will be loosing a little in the harmonic structure as well as adding more playing time to the four players in a quartet. The  limited voices in the harmony can be solved by careful voicing of the arrangement and the loss of one player means that you have to be very careful not to work your four players to death. As the arranger for our group, let me say that the fifth part adds a great amount of time also when writing and printing music. Organizing the library for five players was much more work than working with a quartet.
Are there many good trumpet quartet arrangements available?
You should be able to find at least two dozen acceptable trumpet quartets on the market and each will cost you from $10 to $25. There are some very fine arrangers/composers writing for four trumpets but most are difficult arrangements and for that reason I have offered more user-friendly materials which would better suit the public school crowds. The price of my arrangements is more reasonable also ($1.00 to $20.00 for each arrangement). You can visit this site at Trumpet Ensemble Music, com.
Your first few gigs will most likely be for your friends. If you are a student in high school, this might be the beginning of regular rehearsals of your group which would make preparing for contest much easier when that time comes each years. Most band directors will be supportive of your venture and there are always churches in need of live players. And I don't mean only at Easter time. Weddings are also good opportunities for actually making money.
If you are only interested in playing in a trumpet ensemble to make money, you might be interested in what I told my ensemble at our first rehearsal, "If you are expecting to make a lot of money playing in this group, please let me know now so I can find someone to replace you." Trumpet groups do not make a lot of money but there are more important things in life than making money.