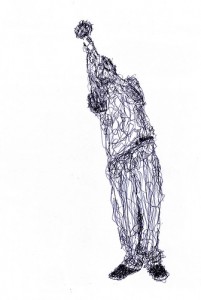 Trumpet players have the reputation of being, arrogant, self centered, boisterous, know-it-alls and for this, we are sorry. Some players learn this naturally and some of us did not realize it was happening until it was too late.
This is typical of the view most musicians have of trumpet players-
How many trumpets does it take to change a light bulb?
Five. One to handle the bulb and four to tell him how much better they could've done it.
Is it justified? It might be, but I am more interested in the answer to this question-
"Do trumpet players have these characteristics before they start playing trumpet or does playing the trumpet make normal people into these monsters"?
What is it like being a trumpet player?
Playing trumpet is much like sky diving for the first time. You really aren't sure you will live through the experience. The trumpet is not an instrument that can hide in the back row and hope no one hears you (like a second violin player). It's not an instrument to play if you are concerned about one or two missed notes (like a piano player). No matter where you sit in the ensemble, you will be heard and every note that you miss will be known to everyone within one hundred miles. Everything you play and every thing you do is on the line any time you have a horn in your hand.
How do trumpet players cope with the pressures?
When you are expected to do anything as exposed as trumpet playing, you learn early in your career to lower the force field around you to ward off criticism and ridicule. I can't tell you how many times I was told at a very early age, after missing the high C at the end of the Carnival of Venice, "Nobody could tell you missed the last note". OF COURSE EVERYONE COULD TELL I MISSED THE LAST NOTE! You can't hide the elephant in the middle of the room! Because of the, in your face character of the trumpet, few can perform without making recognizable mistakes and because of this, we become more and more protective of our honor and consequently build up more of a bravado (blustering, swaggering conduct ) characteristic in our personality.
Are trumpet players secure or insecure with themselves?
To most non trumpet players, we tend to be characterized as very secure, almost to the point of arrogance but I think you may find that down deep, under the surface, we are far from confident in ourselves. So the question persists, "Do we come by this naturally or does the trumpet bring this on"? Another question can be asked, "Do all trumpet players suffer from this condition"? Players who perform within the section but not as lead players do not generally have this attitude. Section players are more relaxed and confident in what they are expected to perform. Know this, we can now make the assumption that lead trumpet players, because of their exposed playing responsibilities as well as section leader pressures, seem to create more of an attitude than their section players.
In conclusion
Lead players, through the added pressure of their exposed parts, coupled with the aggressiveness required to lead their section, and by the nature of their position seem to be the reasons for their slight tendency of a superiority attitude. Is this attitude justified? I can't say for I have relegated my career to the honorable position of a very fine second chair player. Can we live with this type of player? I know I can for the amount of energy required to perform lead in any situation is more than I wish to exert at my age. I will respect the lead chair players and endure the attitude which sometimes goes with the territory. The attitude does not come from the player just as the attitude does not manifest itself from the trumpet. The overly confident attitude comes from the difficulty of the instrument coupled with the position of leadership in the ensembles.