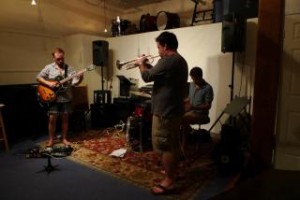 I recently came across a very talented trio fronted by a young trumpet player you must hear. Noticed I didn't say your "should" hear. The trio is called Sweet Talk and no matter what kind of music trips your trigger, you need to listen to and follow the progress of this interesting ensemble (an experimental jazz trio based in Brooklyn, NY. Jake Henry – trumpet; Dustin Carlson – guitar, Devin Drobka – drums).
Each member of the group is able to contribute artistry in every composition. And when you combine only a guitarist, a drummer and a trumpet player, you are putting it on the line every time you kick off a tune. When I first realized the instrumentation, I have to admit that I started the video with the intention of proving to myself that this strange combination of instruments would never keep my interest. Was I wrong!
After reading my interview with Mr. Jake Henry (trumpet player and leader), start the video, set back and begin to listen to a style of music you may hate, love or even question. If you have the same reaction I had, you will want to learn more about this group and for that reason I suggest you first read about Sweet Talk and then play their video. In this way, you will better understand why I was so "blown away" with their work.
And here is my interview with Mr. Jake Henry-
How would you classify your style of jazz?
Genre is always a bit tricky for new jazz music, but I'd say it probably lands in avant-garde jazz, though free jazz and noise have been thrown around as well.
If it is free Jazz, I noticed that you all were very organized as far a structure and you had charts in front of you. Please explain. To me it sounds like "Well organized Free Jazz" if there is such a thing.
The reason I say avant-garde over free jazz is because of the emphasis on compositional elements. We improvise within the constraints set by the pieces, similar to traditional jazz, though the constraints are often construction and deconstruction of themes as opposed to an ongoing form.
How long has you group been together?
We've been together since 2011, but Dustin and I started playing together a year before that.
What type of venues do you perform in?
It's a mixture of jazz clubs, art galleries, house shows, noise venues and DIY spaces.
How is a new composition created?
My compositional process is something I've settled on after a lot of trial and error. I mostly start with some form of material, whether it's melodic, harmonic or rhythmic, and then map out the structure of the piece from there… melody, how we get to the improvising, what material we improvise on, and how we exit into more composed material. Most of the work is done in the "editing" phase though.
How do you decide when to come out of the free sections?
It really depends on the piece. Often I will write bookends to the improvising to provide a unique contour to each song, as the improvising is generally free of predetermined form and harmony, I try to vary the material we start and end with enough to make each piece's improvised section(s) distinct. A little bit of exit material really helps to make a song identifiable, and ensure that the ends of pieces always make an impact. With that said, sometimes we will stop organically in which case the end material may be disregarded
Are your ensemble sections written in notes or rhythms?
Absolutely. The piece we play in the video is actually one of the simplest in the book. Even for freely played or rubato melodies, the way they appear on the page is carefully determined.
How did you come up with this instrumentation?
Touring is a bitch. This band fits in a car.
Who do you consider an influential trumpet player in the development of your style of improvisation?
Man, that's tough (as you well know there are so many). I've definitely spent a lot of time with Freddie Hubbard, Kenny Wheeler and Lee Morgan, but in terms of modern players that have had a more relevant impact stylistically Ralph Alessi, Peter Evans, Dave Douglas, Shane Endsley, Nate Wooley. Super important to my concept as well are my friends Brad Henkel, Kenny Warren, Joe Moffett and also saxophone players Tony Malaby and Tim Berne
What equipment do you use?
I play a Marcinkiewicz Rembrandt trumpet with a GR 66mx mouthpiece and valve oil I make myself.
Who do you most often listen to?
Jake Henry's Sweet Talk is an experimental jazz trio based in Brooklyn, NY. Jake Henry – trumpet; Dustin Carlson – guitar, Devin Drobka – drums
My friends and contemporaries. There is very inspiring music out there right now. Some of them are Adam Hopkins, Patrick Breiner, Sean Ali, Will McEvoy, Josh Sinton, Chris Weller, Kate Gentile, Matt Mitchell and David Grollman. Also here are some names of some other folks I like: Bartok, Beyonce, Messaien, Curtis Mayfield, Frankie Valli, Kendrick Lamar, Ben Monder and The Tallest Man on Earth
What kind of musical background do each of your players have?
Devin, the drummer's background is mostly jazz and free jazz, though he definitely played in a few metal bands in his day. Dustin, the guitarist's background is a lot more rock and funk bands. As for me, I started young as a jazz guitarist and gradually switched over to trumpet in my mid to late teens. My musical taste has definitely broadened over the years.
What do you hope to do with your group in the next couple years?
Well I don't want to give it all away, but we've got another album that we're set to record this year, and I plan to take the band overseas. Also in March we'll be playing the Canadian Festival of New Trumpet Music in Montreal.
Every trumpet player, young old, professional or amateur should listen to this group for I feel that the music which they are producing is worth the time to evaluate. Some of you may not like their work and that is alright. Some of you may wonder what is going on and still others may "flip" over the group. Whatever your reactions you experience after listening to these talented musicians perform, your musical taste will have been expanded and that is good.
For those able to make the "Canadian Festival of New Trumpet Music in Montreal" in March, I will be jealous for I would love to be at that festival and hear this important trio in person.
The very best to our new friends in Sweet Talk.