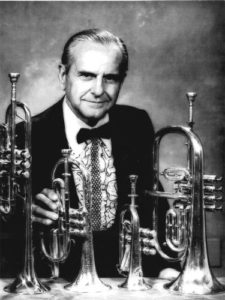 We have lost a friend some younger trumpet players may not know or even recognize his name, Robert E. Nagel.
To the older players, his work with the New York Brass quintet was the start of brass chamber music as we know it today. The trumpet work of Robert Nagel and Allan J. Dean was an inspiration to all of us at that time and we will forever be indebted to their perseverance and musicianship.
I'm sure many of us have our favorite story about this gentile, soft spoken man but mine will forever be etched in my memory. Many years ago two of my students and I were invited to perform on the Missouri Trumpet Festival for my good friend Betty Scott. The featured performer for that event was Mr Robert Nagel. The opening trumpet quartet on the final concert was one of Mr. Nagel's transcriptions and I was lucky enough to draw the short straw and play the fourth trumpet part. Usually this is the part most musicians would die for but as I checked out the first four measures, I was not a happy camper. I only had sustained quarter notes but due to the fact that they were all low "G" with the dynamic indication of ppp, and…..I was the only player for the first four measures, coupled with the fact that the tempo was about 60 beats per quartet note, I was more than concerned.
During the rehearsal all went well and moments before we entered the stage to perform for at least 200 trumpet players from Missouri and surrounding states; including David Hickman seated in the front row, Mr. Nagel turned to me and in a very soft voice whispered "Boy, I'm glad I don't have your part"!
We have lost yet another monster player and the trumpet world has lost one of our most inspirational leaders.
Robert E. Nagel Jr., trumpeter, composer, arranger, founder of the New York Brass Quintet, and founding member of the International Trumpet Guild passed away June 5th at the age of 91. He had an illustrious career as a trumpet player, teacher, composer, conductor, arranger, and was a pioneer of brass chamber music.
Nagel was born in Freeland, Pennsylvania, on September 29, 1924. He began studying the trumpet at the age of 8. As a child prodigy, he was featured on national radio playing a cornet solo with the Armco band conducted by Frank Simon at the age of 13. While in high school he also studied piano and composition. He attended the Juilliard School of Music for one year before entering the army, where he played in the West Point band for 3 years. After returning to Juilliard, he studied composition with Peter Mennin and Vincent Persichetti. For several summers he was a student at Tanglewood where he studied trumpet with George Mager of the Boston Symphony and composition with Aaron Copland.
Upon completing his studies at Juilliard he was appointed first trumpet of the Little Orchestra Society in NYC. This appointment launched a freelance career that lasted over twenty years. During this time he played with conductors Leopold Stokowski, Leonard Bernstein, Pablo Casals, and Igor Stravinsky. He recorded extensively with CBS, RCA Victor, NBC, and MGM. Among these are many iconic recordings, including the 1961 recording of L'Histoire Du Soldat, conducted by Igor Stravinsky, and the Brandenburg no. 2, by J. S. Bach, conducted by Pablo Casals. He performed with the Bach aria group, the Contemporary Chamber Ensemble, the Casals Festival in Puerto Rico, Yale at Norfolk, and the Aspen Music Festival.
Perhaps his most enduring contribution to music was in the area of brass chamber music. He was the founder and director of the New York Brass Quintet. For over thirty years, the NYBQ performed across the US and Europe. He commissioned numerous works for the brass quintet and was a founder of the International Trumpet Guild and recipient of the prestigious ITG Honorary Award. As a composer he has written for orchestra, chamber music, trumpet method books, and arranged solo and ensemble music. To promote brass chamber music he launched his own publishing company, Mentor Music, in 1959.
He served as a faculty member of the Yale School of Music, the New England Conservatory, Juilliard, the Manhattan School of Music, the Hartt School of Music, North Carolina School of the Arts, and Rutgers University. Survivors include his brother Donald Nagel, children Deborah Bolser, Roberta Nagel, Edward Nagel, Heather Nagel, and eight grandchildren.
Funeral services will take place in Forest Hills, Maryland. In lieu of flowers donations can be made to the Gideons.
Source: Debby Bolser