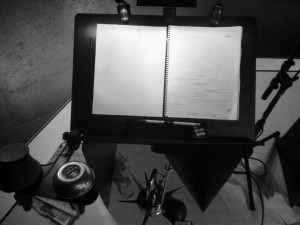 I must admit, I am much more deliberate in my preparations for a show than the average musician. The reason for this is two-fold;
1. I detest making mistakes
2. I am not the quickest learner in the section
Because of these shortcomings, I tend to do much more preparation before a performance than any of my colleagues.
My current work area consists of a traditional music stand which was popular during the 1940's which is the time frame the show is set. Atop the music stand was a small goose necked LED light, not typical of that time frame. In addition to and substituted for this simple yet traditional setup, I have added the following helpful features-
1. An Aria Brio, rechargeable, LED music stand light. (Not shown in photo)
Being able to see clearly the notes you are to play is very important and after changing to this wonderful source of illumination, my work was substantially made easier. Not only does the Aria gain its source of power from a large rechargeable battery, it also has a convenient dimmer control so that I can adjust my light from subtle to "set fire to the stand" illumination.
One of the issues we were having with the conventional goose necked lights was that with fresh batteries on the overture we were fine but by the time we got to the bows at the end, the lights had dimmed substantially.
An additional problem came when the stage lights ran a pink gel and our music disappeared. That was exciting!
2. A Music Riser
Most of you will not recognize this product for I designed and made it myself. After many years of propping up my music on the stand with a mute to make it easier to read, I designed and built a handy little device which positioned my music exactly where I wanted it to be. Not only does it make reading the music easier, it also has a feature to hold a pencil for quick and easy marking of the music.
3. Effective Mute Holder
This show has more quick mute changes than any other show I have played and for that reason; I had to devise a more efficient mute holder which would place my assortment of mutes in a more accessible location. After about thirty minutes in my workshop I had the solution to my quick mute changes. As you can see from the photo, I now have only a distance of about three inches to pick up and insert my mutes. Problem solved!
A stable trumpet stand is invaluable in this setting especially when you have one of those long, long 10 second breaks from playing!
5. Reading Glass
As one gets older, the music tends to get smaller and fainter and for that reason the older crowd relies on eyeglasses which will improve the player's chances of getting the correct notes. I have a pair of glasses made especially for the computer screen distance and although the music stand is just a tad further, the added amount of light thrown from the Aria Music Light extends my depth of field just enough to get by.
No matter if your employment is for cutting down trees, repairing leaky plumbing or playing a show, you have to have the right tools to make your work easier.