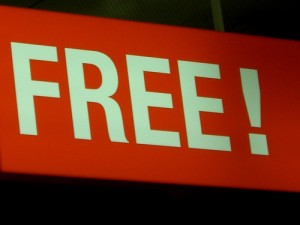 Budgets are tight and still we need material to practice. I have been searching the Internet for some time and have collected a large source of sites which offer free music for the trumpet. Some are good and most are a waist of time. I have selected my top thirteen sources for free music written for, or adaptable for trumpet use. If, after reading this post you have additional sites to suggest, please send your information to me and I will update my listings on a later post. These listings are from the best to the less valuable, indicated with stars (*****= best).
http://uhaweb.hartford.edu/lichtmann/downloadsindex.html
This, although dated, is one of the best sources for free trumpet material. Not only has Mr. Lichtmann included trumpet solos, and study material, but he also offers many brass ensembles arrangements as well. *****
http://www.trumpetensemblemusic.com/category/free-music/
This site features twenty free arrangements for trumpet ensembles which includes various styles as well as study material. I highly recommend this site, even if it is one of mine. *****
Please note that Free Sheet Music-Remembering Newtown, Connecticut- Trumpet Choir is no longer offered for free.
http://icking-music-archive.org/index.php
You will be overwhelmed by the number of offerings at this site. Working your way through all of the listed offerings will take you some time but once you become familiar with the format, you will have access to a vast amount of free material. Many of the arrangements are offered in Finale format which means you can download them into a Finale program and alter them to fit your needs, *****
http://www.free-scores.com/download-sheet-music.php?pdf=28308
This is another large collection of trumpet solos. Some are Classical material and many are from both professional as well as armature composers. When you have found something of interest, click on the picture, then on the PDF file to download your music. *****
http://memory.loc.gov/ammem/sm1820query.html
The National Library of Congress will offer you an enormous source for sheet music. Most will be written for piano and voice but if you can transpose, you will have more than enough material for your earlier music needs. *****
http://www.8notes.com/trumpet_sheet_music.asp
Great amount of quality music here. *****
http://imslp.org/wiki/Category:Scores_featuring_the_trumpet
This site offers a large collection of trumpet solos and ensembles which include trumpet. You will have to spend some time going through all of the levels to find the trumpet material. Navigating through the searches will be your biggest problem. ****
http://brass-forum.co.uk/Resources/MusicDownloads/MusicDownloads.htm
This site features a few unaccompanied trumpet solos. They could make fine material for practicing. ***
http://www.mutopiaproject.org/index.html
You'll find a few trumpet solos at this site. Most are very short but could be of benefit to you. View the material by selecting the number and clicking on "Letter pdf file. **