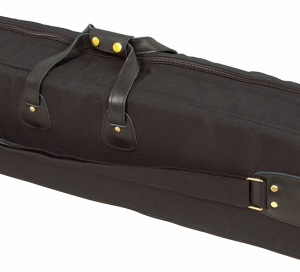 I have had a couple inquiries about my PBone and how it has worked out for me and because of these unrelated to trumpet questions, I was hesitant to address any more trombone questions. But, because of the hundreds (actually only a couple) of requests, I have decided to offer some final information on the PBone.
Question #1- "Do you like the horn".
Answer- Yes
Question #2- "How does the slide work"?
Answer- Push it out and pull it in.
Question #3- "What do you like best about the horn"?
Answer- It's cheap ($159.00) and weighs only 1.8 lbs.
Question #4- "What do you think of the case it comes in"?
Answer- Dump it!
I ran into a great deal on line last month which you may be interested in.
BrassWinds had a great deal which took the original price of a Giardinelli bag down to $49.
Giardinelli Cordura Trombone Bag
Transport your trombone in a Giardinelli bag that offers superior protection thanks to its rugged nylon exterior and extra-thick padding.
•MSRP: $140.00
•Your Savings:- $80.01
•Shipping (48 Contiguous U.S. States) FREE
•Your Price:$59.99
The special price of $49 is no longer available but for the extra $10, it is still worth it.
The added security of a better case was necessary to protect my "one of a kind" air brush job which you see at the bottom of this post.
Now, this will be the last posting which deals with my darker side (trombone playing).