I Never Wanted to Be An Old Trumpet Player-
"And Now I Are One"!
Tone is something every musician should be concerned about for it is the only product we have to offer our listeners. Some tones are small and intimate, such as Miles Davis. Some tones are intensely focused and centered as in the case of Rafael Mendez. To say a person has a beautiful sound seems to be the ultimate compliment but this beautiful sound may not be appropriate for a horn player in a Rock and Roll band. Rather than debate the question of what is a good sound and what is a less than satisfactory sound, I would like to refer to the sound most players should strive for; and that is a more focused sound.
What is a focused sound or tone quality, why is it important and how does a player gain more focus to his/her sound? To more fully understand what constitutes a focused sound, let me share with you some visual/audio aids which should more fully illustrate what we are discussing.
What does a focused sound look like and how does it compare to other tone qualities?
Visual representation of three different embouchure settings.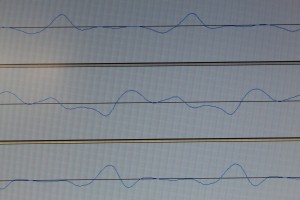 Example #1
This example was produces with an excessively loose embouchure and is noticeably flat in pitch.
Example #2
This example was produces with an excessively tight embouchure and is noticeably sharp in pitch.
Example #3
This example was produces with a focused sound and is in tune.
Discussion of the same three embouchure settings.
Terms used
Peaks (highest points in each illustration)
Valleys (lowest points in each illustration)
Contours (general shapes of peaks and valleys)
Primary peaks and valleys (the highest and lowest changes)
Secondary peaks and valleys (similar to primary peaks and valleys but with less amplitude- in this case I am referring to increase distances rather than dynamic change)
Example #1 (Too Loose)
Notice that the primary peaks are very similar to those in example #3 although the peaks drop off more slowly than in #3.
The secondary peaks and valleys are also similar to #3 but do not dip as low nor rise as high as those in #3.
The secondary peaks do not rise above the center line and the secondary valleys do not dip as low as in example #3.
Example #2 (Too Tight)
This is by far the most dramatic change in tone of the three.
Each peak is drastically more rounded.
The biggest difference in this example is the action between each peak and valley.
The majority of the tone is centered close to the base line with very little contrast in highs and lows as in the case of example #1 and #3.
Where as in the case of examples #1 and #3 the middle section is relatively constant, in example #2 this is where most of the tone is located which is caused by the overly constricted embouchure and few overtones are present.
Example #3 (Focused)
#3 is very similar to the characteristics of #1 but the difference tends to be in the more vertical drop from each peak and the extended depth of the valley sections.
The peaks of #3 are also higher than those of #1. Some may attribute that difference to the dynamic (decibels) difference in the recording but I was very careful to match the dynamic representation of each example.
Recorded examples-
Now that you have seen what a focused tone quality looks like as well as hear the differences among the three, in our next post we will show you how to form a more focused embouchure and gain its correspondingly focused sound.