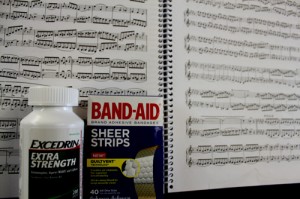 In our previous post we directed our attention to the chromatic warm-up and this post explains the benefit of lip slurs to improve flexibility as well as improving your tone.
The more strength you developed in your embouchure, the more lip slurs will be needed to keep your flexibility in line with your increased strength. In order to accomplish this, time must be spent doing lip slurs. The amount of slurs you do will depend on the amount of time you are spending strengthening your embouchure. A very good way to evaluating your flexibility needs is to answer this question "Do your lips feel good"? In most cases when your lips feel alive and fresh, you are getting enough flexibility exercises. On the other hand, if your lips feel stiff, inflexible and generally tired, then you are in need of some good lip flexibility time.
Every day I try to get in my complete one hour of practice as we have talked about in these posts. But, if I only have a few minutes to play my horn, I njoy electronic cigarette usually do some lip exercises. Even when I'm shopping, a few minutes buzz my lips will help loosen them. I also have in each of our cars a mouthpiece just in case I need to buzz and I'm stuck in Branson traffic.
There are many books on the subject of lip slurs and they all will work. My favorite two books are the Earl Irons, "27 Groups of Exercises" and "Advanced Lip Flexibilities" by Charles Colin. The reason I use these two collections is the fact that after a couple months of playing either one, I get bored and eventually change back to the other. Both are excellent collections of lip exercises.
As with our first post on practicing, you will fine below a downloadable collection of exercises to improve your lip condition as well as a recording of all the material. Download the PDF file, print it and play the recording from this site and start becoming the player you have always wanted to be.
Slurring exercises here- Lip Flexibility Exercises
Recording-