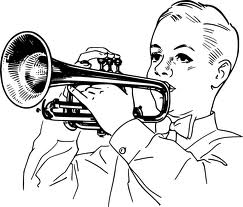 Only through a careful look at past history are we able to understand what we do and the reasons we do them. This is especially true when trying to understand mistakes we have made in music education. I will try to explain my thinking as one who was there and watched it happen.
During the 1960s the school stage band movement began to blossom. Heavily influenced by professional big bands such as Buddy Rich, Maynard Ferguson, Thad Jones, Toshiko Akiyoshi, Bill Watrous, Don Ellis and others, high school band directors began to collect illegal record copies of these bands and began to compete in contests offered by early colleges such as my alma matter the University of Northern Iowa. In order to be competitive with their rival schools, these directors continued to build their libraries and challenge their students in their trumpet and trombone sections. As these arrangements began to filter down to the smaller schools, students with lesser abilities were expected to perform at the same level as the original professionals and the more advanced high schools. This pattern began to take its toll on the trumpet players across the country.
Not only were the best players in each band asked to perform at the same level as professional musicians, eventually the better players graduated and the second chair players the next year were again expected to play the same difficult parts their senior year. This unreasonable expectation took its toll on many very talented second chair players by forcing them to play in the upper register which was far beyond their capabilities. So much for music education.
At the same time these struggling young players were opening up cuts on their bruised lips, their directors began to inquire from professional players what was needed to increase their struggling young player's higher range. The answer was usually the same, "you need more air". Because of this "prescriptions over the phone" mentality, we began attributing all playing problems to the lack of air. SO MUCH FOR MUSIC EDUCATION! Seldom were other possible areas considered such as lack of flexibility, endurance, physical limits, equipment, personalities, etc.
When judging Jazz festivals at that time, it was not uncommon to hear more than one high school jazz band attempt to perform such big band hits such as Channel One Suite (recorded by Buddy Rich), Pussy Wiggle Stomp (by Don Ellis) or MacArthur Park (by Maynard Ferguson). Notice my carefully selected use of the word "attempt". Unless the school was from a major area in the state such as DesMoines or Iowa City, the result was less than acceptable. When such advanced arrangements were attempted by smaller, less advanced schools, the results were most often miserable.
The reason for this unfortunate development was not in the student's lack of ability to play the music nor was it in the music itself. The fault lay squarely in the shoulders of BAD BAND DIRECTORS! Too many lazy, ego feeding directors were more concerned with winning a first place trophy than thinking about what was best for their students and music education in general. Doesn't this sound very similar to some sports coaches who will work a student to exhaustion in an effort to complete a winning season and in doing so keep their job? Lest one accuses me of making complaints and not offering solutions, I have listed a few ideas which might save a young trumpet players chops in Jazz ensembles today. If you think this is not a problem today in music education, start reading the trumpet bulletin boards and you will find students pleading for advice to help them in the same position today.
Conceptual solution to the problem of trumpet student abuse in Jazz ensembles today-
1. Band directors need to develop music programs, not their own egos.
2. Band directors need to recognize their student's limitations and strengths.
3. Band directors need to begin to select contest music earlier in the school year.
4. Band directors need to ask fellow musicians for advice in music selection.
5. Band directors need to encourage students to begin arranging themselves.
6. Band directors need to commission charts especially written for the strengths and weaknesses of their ensemble.
7. Band directors need to be creative when programming music instead of following the usual programming.
8. Band directors need to take a chance on something new instead of following the herd.
9. Band directors need to better utilize solo players when their ensemble is weak and feature the ensemble when solo players are limited.
10. Band directors need to visit with their principle and superintendent to let them know the reason you have chosen to take a stand for better music education rather than try to add another trophy to the schools trophy case.
Practical solutions to the problem of trumpet student abuse in Jazz ensembles today-
1. Spend time rewriting a difficult arrangement down a second or third. A big, fat high C sounds bigger and fatter than a thin, mousey high D.
2. Give your strong tenor sax soloist one more chorus to solo and in that way your trumpet section will be able to rest a little bit longer.
3. Start using two lead players. Let the weaker player play lead on the low stuff and rest your other lead for the high stuff. By using two lead trumpet players, you might be breaking in your next seasons lead player.
4. Remember the rule, "10% less volume equals 20% more endurance". If this sounds new to you, it should. I just made it up, but it works.
5. Judges who are worth anything recognize the difference between a well-rehearsed ensemble and one that relies on the "higher, faster, louder" approach.
6. Performing a record copy of a professional ensemble means that you will be compared to the original recording and you will always loose in the comparison.
7. Judges are impressed when it is announced that the next composition was written or arranged by a member of your ensemble. Be sure to take the time to introduce the student.
8. Have enough confidence in your band to kick off the chart, then stand to the side and let the band do their thing. Flailing your arms like a wounded bird does nothing for the judges so save it for your home town audience, they always appreciate it.
9. Always announce the soloists name before or after a chart, it lets the judges know that you at least remember their names.
10. Always include sight reading in every rehearsal. The time you spend doing some sight reading in each rehearsal will be a big payback when preparing new music each year.
I might have been a little strong on the responsibility of the jazz band directors in our systems, but who else is in charge?