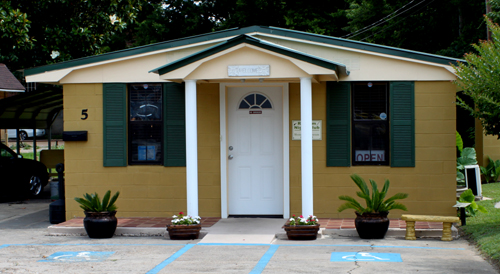 Now that we have addressed the fire as well as the band and band leader who perished in the Natchez Blaze on April 23, 1940, I would like to introduce you to a couple who have worked diligently to preserve the names and history behind the fire. Their names are Monroe and Betty Sago who are the owners and operators of the Rhythm Night Club Memorial Museum in Natchez.
While making our way to the gulf to spend some time with our family, my wife and I decided to visit the city of Natchez of which we knew nothing about. We enjoyed two days in this beautiful southern city and learned about the city's history and people through a visit to the Natchez Welcome Center and a pleasant horse drawn tour through its well preserved streets.
While visiting with a guide at their Welcome Center, I noticed some information about the fire and asked one of the guides for more information and was advised to visit the Rhythm Night Club Memorial Museum which was located on the very site of the fire more than 70 years ago. Finding the Museum on Catherine Street was easy and as my wife and I drove into the parking lot in front of the museum, we were warmly met by the museums owner Monroe Sago and invited into the building.
It was immediately obvious to us that Mr. Sago was not only an informed guide through our tour of the building, but was also a very passionate spokesperson for the event. As we were led through the building, Mr. Sago explained the many items on display which he has collected through the years. Included in this collection are original and copies of actual newspapers telling of the horrible fire and shared first hand interviews with people who were able to escape the fire that night. Not only were individuals pictured but the tour included information on a local high school band which was there that night with their director. All perished in the very site on which we stood.
I found the items on display to be well preserved and reverently displayed and the personal and informative description given by our guide to be very helpful. Just being on the same site of the fire made a lasting impression on both my wife and I as we viewed pictures and listened to Mr. Sogo relate the history of that evening.
If you are even near Natchez in your travels, I would strongly recommend visiting the Museum and taking the tour with the Sagos. A small donation is expected and when comparing the cost of viewing a current film, or spending money for a modest dinner to the time you will spend learning about the people, the building and the life style in Natchez at that time, you will be much more compensated for your money.