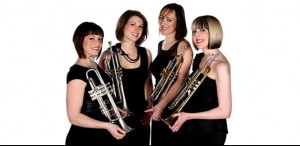 This is the second in a series of "My Favorite Trumpet Groups".
The following material has be taken from their web site and explains a little about their history and accomplishments. To understand the complete story on this ensemble, go to Bella Tromba for more information.
Formed in 2004 at the Royal Academy of Music, Bella Tromba is an established chamber group performing extensively in the UK and abroad. Cheltenham Music Festival, South Bank's Purcell Room and BBC Radio 3 have all featured the group. Bella Tromba have given recitals and presented conservatoire level master classes in Europe. In 2010 they performed as guest artists at the International Women's Brass Conference in Toronto, Canada.
London based freelance trumpet players; the members of Bella Tromba have the combined experience of playing for the Britten Sinfonia, the Halle Orchestra, the Royal Opera House, the London Philharmonic Orchestra, the Royal Philharmonic Orchestra and the Orchestra of the Age of Enlightenment.
As Park Lane Group Young Artists the quartet is active in the performance of new works. They have commissioned and premiered works by Paul Edlin, Howard Skempton, Paul Whitmarsh and Giles Easterbrook. The Guardian describes Bella Tromba as a glamorous all-trumpet girl band, dedicated to exploring and the expanding the instrument's potential. The support of the SPNM, Ralph Vaughan-Willams Trust and the Britten-Pears Foundation has ensured a wealth of repertoire for this distinctive ensemble.