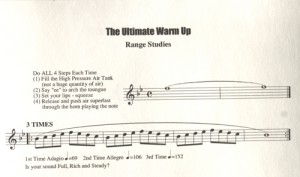 This posting includes a warning! "What you are about to read and view, can be of help to playing more easily in the upper register. This material includes very reasonable and sensible methods and, if followed carefully, should improve you high notes. Also in this post are examples of extremely high playing and in no way should you try to achieve today what these players have developed through years of practice. Any attempt to duplicate their high notes can and will spit your lip wide open and cause massive bleeding and unmatchable pain and suffering. The author of this blog accepts no responsibility for any damage or discomfort done to any individual who does not follow the included instructions as stated." With that said, let's get into the study of high note playing. Oh, one more thing. If you get dizzy, while playing these exercises, SIT DOWN IMEDIATLY!
The accompanying written material is highly recommended and should be read completely before beginning to play.
There are many similarities between these exercises and those done in the Roger Spalding and the Glaude Gordon Methods. These are proven examples of high range practices and should help you.
StudyMusicOnline.com This video explains a very thoughtful approach to high note playing. Please note the use of low tones performed after the high note exercise. This is very important for it gives the embouchure a slight chance to recover as well as reset your mouthpiece placement and embouchure formation.
215thArmyBand The player in this video will share many important hints which you should consider. During the video, two very helpful etude books are recommended. The first is the Earl Irons, twenty-seven Groups of Exercises. This was a required book for all of my students at the University of Northern Iowa and I am very pleased that it is still valued so highly today. The other etude book is the Walter Smith Top Tones for Trumpet, also one that I required of my students. Playing repetitious scales can become very boring and the Top Tones will give you more of a melodic approach to high note playing.
I recommend all three of these sites and would expect you to try all three. Try all three, one at a time and decide which approach works best for you at this time and then stick with that one alone. If, in the future you become tired of your first choice, or if you do not advance in your high range playing, try one of the other two for a while. There is no way in the world anyone could tell you which method will work best for you but at least now you have three possible methods to try. Only you can be the judge on which is best for your situation.